Wednesday, January 23, 2013.  Orlando, FL
The Wednesday during PGA Show week in Orlando every year is Demo Day, the gigantic al fresco exhibition of the latest equipment from the big brands, along with novel teaching devices, innovative tees, ingeniously shaped putters and an array of clever inventions that you will soon realize you can't do without.   Held at the Orange County National Golf Center, which features an enormous teaching range with concentric tiered tees, Demo Day promises to provide the cure for—or at the very least, diagnose–whatever ails your golf game.  On this day, it's the most exciting venue in golf.
On a splendidly sunny but cool morning, the vendors set up booths around the perimeter, with Nike and Callaway and TaylorMade and Cobra more or less anchoring the cardinal points on the compass, while the aspiring companies and hopeful inventors occupied fill-in spots among and between the grand pooh-bahs.   Color is a big theme among clubs these days, from Cobra's orange to TaylorMade's iconic white to Nike's cool black.  Now I have no doubt, as Graeme McDowell shrewdly pointed out when Rory McIlroy's defection to Nike was announced to great fanfare in Abu Dhabi, that all of the leading club manufacturers make great equipment, and a player's choice of what equipment to use is as fickle at the end of the day as his choice of what car to drive.  The PGA Touring pros have an entirely different relationship to their clubs than you or I, not least because their talent and experience yields feedback at a level incomprehensible to us.  A great NBA player once came out for a pre-game shoot-around and after one shot called for maintenance, because to him the rim was clearly off.  The crew came out with tape measures and a level and sure enough, the front of the rim was 1/8 of an inch lower than it was supposed to be.  He was one of maybe forty people on the planet who could have noticed that—and the PGA Tour players have the same finely calibrated sense of their equipment.
That being said, there is also no doubt that if it needed to, Nike's crack engineering and equipment development team could reverse-engineer any clubs Rory likes, tweak their appearance and put the swoosh on them.  I am not saying that is what happened, I am just pointing out the a golf club is not a particularly complicated piece of equipment, and if a Chinese car company could reverse engineer a BMW, Nike could do the same for a golf club.  But Nike's staff can also work with Rory, as they have with Tiger, to produce clubs exactly to his liking, which may in turn influence what you or I may want to buy, without changing our skill level or results over the course of a summer much if at all.
But the hope that we can get better is what drives us.  David Jacobson, Peter's brother, provides the best illustration I've heard about how hope animates every golfer's quest to improve.  When his dad was ill and only a month or so away from dying, David's dad called and said he needed to meet him at the range right away.  "I think I've got it figured out," he said, and wanted to share his discovery.   That's the chi of golf.
The Golf Swing Shirt
And it's that same spirit that moves someone like Ray Rapcavage, otherwise occupied making a living in commercial real estate in New Jersey, to invent the Golf Swing Shirt, a cross between a crossing guard's bib and a strait-jacket that earned the endorsement of none other than Jimmy Ballard, the guru of "connection."   Ray says that he was practicing in his yard one late winter's day, getting ready for his first round of the season, when he shanked three balls in a row off the side of his house.  In frustration, he jerked his wool sweater over his head, and in trying to put it back on somehow got all entangled and the next thing he knew he had both arms down one sleeve.  He grabbed his wedge and hit a shot anyway, and lo and behold, it was good.  He hit another, with an equally satisfying result.  He had a friend in the garment business, and between them they stitched up a prototype, which Ray wore to his course, where he shot 72.  Eureka.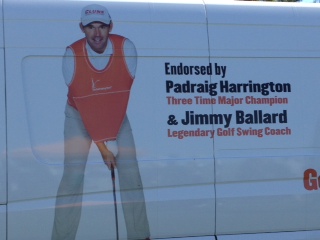 With a little more tweaking, he developed a version for the market, and began showing it to PGA pros in New Jersey.  It starts with a basic sleeveless tee-shirt-like body (made of stretchable nylon fabric) with what Ray calls the "center trunk sleeve"—the funnel of fabric that holds your arms against your side while aiming your hands toward the grip position–attached to the front.  Most of the local pros liked it, Ray says, because getting amateurs to take their hands out of the swing and move in the connected way Ballard likes is one of the toughest skills to teach.   The Golf Swing Shirt made it impossible not to swing connected.  Only one pro said he didn't like it—he loved it, he told Ray, but he didn't want to sell it because he thought it would make his instruction obsolete.
I slipped one on and took a few swings on Demo Day.  At first I felt like I was on my way to an arraignment just hoping to make bail, but once I got over how tight my hands felt when I first gripped the club, I was thrilled with the results—every shot high and straight (the test club was a forged wedge), although Ray says most players hit the ball a little thin the first few passes.
The shirt now is designed with a pocket you can slip the center trunk sleeve into, so if you buy it in black or white rather than orange (the three color choices available), you could play a practice round without looking as if there are bloodhounds on your trail.  I bought one and look forward to trying it out on the range and even on the course when I get home.  I won't shoot 72—Ray, after all, is a 3 handicap, so a 72 is always within range—but I would hope to break 80, and if I do the Golf Swing Shirt will not only have Padraig Harrington's endorsement, it will have mine.
Orange Whip
Not far from the Golf Swing Shirt booth, and in keeping with the orange theme, is a training aide called the Orange Whip and no, it's not an energy drink.  It's a whippy-shafted instrument with an orange-colored weighted ball on the business end and a smaller white ball above the grip that is designed to help players feel the "lag" that's absent from most high-handicappers' swings, and to get them into the kind of tempo and rhythm that marks the effortless arc of the good player's move through the ball.  Jeff Herberger, a tall transplanted North Dakotan who now gives demonstrations and clinics showing how players can benefit from incorporating the Orange Whip in their training routines, showed me how you're supposed to use the device.  He swung it beautifully, of course—he's a PGA professional!  But after a few slow half swings, as Jeff suggested, I swung the club in the repeated motion he had demonstrated—when you finish your swing, you reverse to your backswing, and get a rhythm over a minute or so that helps lock in both the tempo and the swing plane—and could feel exactly how practice with the Orange Whip could help my game.  I would not try it, however, wearing the Golf Swing Shirt, because I would not want my brain to experience the curse of perfection.
Innovative Tees
Two new tees caught my attention: the Kiwi three-pronged plastic tee, and the Totem tiny tube tee that you push into the ground with a plastic implement that looks like it might be banned on airliners by Homeland Security.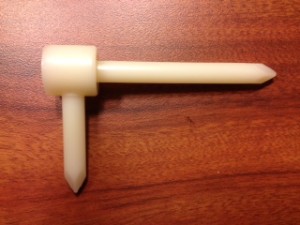 The Kiwi make take its name from the bird, but it also bills itself as the "high performance Firecracker tee."  Set upside down, its footprint resembles a three-toed bird's, but when you use it as designed, the front" toe is your target line, and the back of the ball will rest between the other two "toes," giving the ball a rather grand perch.   I didn't test this tee but took a couple to try at home.  I did watch some good players hitting drivers with this tee and everyone I saw turned around with a smile on his (or her) face after watching the balls they'd laced with the driver arcing off into the distance.  Again, for purposes of full disclosure, these were PGA professionals hitting these shots, not the kind of hackers I spend most of my time on the course with.  But I love tee technology, for some reason—perhaps because it's the only piece of equipment I usually get for free, which appeals to my frugal Scottish nature.  And also, I admire anyone trying to innovate in a part of the game with low barriers to entry, no brand loyalties of any kind, and a product that has always had commodity pricing at best.   That takes courage, and Kiwi is one of the two new entries into this product category I saw on Demo Day.
The other is the Totem tee, which is basically a hollow tube roughly the size of a cigarette.  You slip the tube over the implanting device, then push it into the ground just like with a regular tee.  There is one extra step, however—you now have to set you ball on the tee, rather than holding tee and ball in your palm as per current practice.   But the ball sits up nice on the tee, and once again I watched players use it, mostly with driver (although the inserting instrument has two prongs, one for driver height and one for fairway woods or irons).  Durability may be an issue, but as it is made of recycled fibers it's biodegradable, and shouldn't leave much debris after a mowing or two.  On its web page, Totem calls them "Game-enhancing eco-neutral golf tees," which covers plenty of hot buttons, and as with all the innovative tees, also claims "legendary distance due to significantly reduced spin rate"—introducing the new concept of "legendary" distance, which must be measured in "feats" rather than yards; "unparalleled accuracy as a result of a tighter dispersion pattern…even in strong winds"; "less club head deflection, more accurate ball strike" and last but not least, "a better angle of attack."  If the tee can do all this, maybe I can sell the Golf Swing Shirt back to Ray.  But teasing aside, I really commend Totem for taking seriously the importance of sustainable practices in all areas of golf.
Tomorrow the full PGA Show in all its hat, ball, gloves and clubs' glory starts at the Orange County Convention Center.  We hope to see even more innovative products there.  Hope reigns eternal.