In April, 2011, right after Rory McIlroy's meltdown in the final round of that year's Masters, I predicted that Rory's travails in Augusta would be viewed in retrospect as a minor glitch on his road to greatness— an aberration rather than a tendency.  (Tiger's weekend crumbles during this year's majors, however, represent a trend.)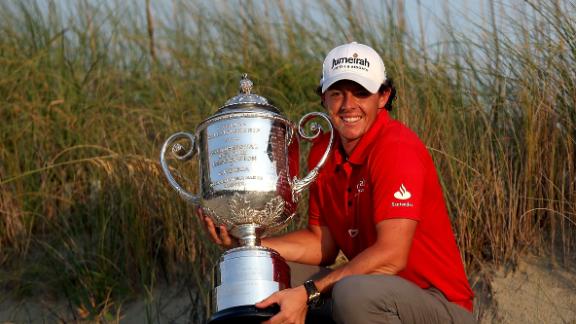 Now that he's won his second major with what can only be called Tigeresque domination, it's clear that Rory McIlroy has taken total control emotionally of his game, just as he has continued to refine its physical, technical genius.   Tiger always looked angry winning, and in his press conference after the final round of the PGA Championship, said he had erred in trying to enjoy himself on Sunday.  He described himself as an "all systems go" kind of player, not the sort of competitor who can relax and relish what he's doing.   That sounded like a rationalization, but given that Tiger has always been open to experiments with his swing, perhaps he's taking that approach to his psychic equipment as well.
But Rory, his smile on the 18th green radiating the joy he clearly felt, never mistook the concentration he was required to bring to every shot with a martial attitude toward the game or his fellow competitors.  He executed brilliantly, and then walked on with a jaunty stride.  The galleries enjoyed singing his name, the lilting strains confirming that he's famous enough now to be known only by a single name.  The handshakes and congratulations from Bo Van Pelt and Carl Petterson to Rory, whatever disappointment they surely felt, also seemed genuine.   Superstars build audiences, as Tiger proved, and Rory's popularity eventually means money in the pockets of the touring pros, but I don't think that is what motivated their pats on the back.
Rory seems, as he appeared to in the wonderful interviews David Feherty did with him in Ireland last year, a genuinely nice person.  The people I know who also know Rory are unanimous in praising his intelligence, his generosity, and his loyalty.   Winning one major by eight shots might have been a fluke, but winning a second by the same record-margin was the result of superior skill and execution.   Rory is now one for the ages, and it will be all of our great pleasure and privilege to sit back and enjoy what will surely be a career trajectory arcing across the stars.