The PGA's decision to treat all those deep sandy pits that look exactly like bunkers at Kiawah's Ocean Course during the PGA Championship this week as "sandy areas through the green" raises some interesting questions.    The whole notion of "waste areas" has a provocative provenance.
According to Forrest Richardson, a golf course architect based in Arizona who wrote a book several years ago in collaboration with Mark Fine called Bunkers, Pits & Other Hazards, Pete Dye coined the term "waste bunker"—another of his long string of innovating contributions to golf architecture.   It was "during the building of Harbour Town," according to Bunkers, Pits & Other Hazards, "when a sewer line break caused thousands of gallons of raw sewage to flood the unfinished 16th hole."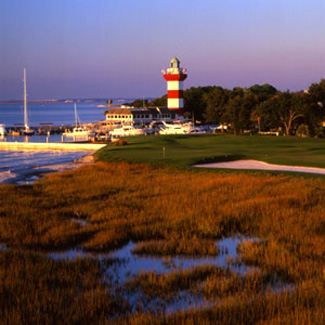 Here's how Dye explained what happened next, as reported by Richardson and Fine:  "We saw the contractor was having a hell of a time, and so we told them they could let it run along the fairway.   We created some dams, and there the sewage sat for several days.  In the end, we compacted it into a flat bunker.  Nothing would grow there, so I brought in a bunch of crushed seashells. We called it a 'waste bunker' for obvious reasons.  And the name stuck."
In 2004, Stewart Cink was involved in a controversy on that same 16th hole at Harbour Town, when he removed loose impediments from the waste bunker.  The controversy was over whether he had removed fragments of shell, which are regarded as loose impediments and were legal to move, or sand, which is not.
As the USGA noted when asked, "the Rules of Golf do not define such areas [that is, waste bunkers].  By Definition, a bunker is a prepared area of ground from which turf or soil has been removed and replaced with sand or the like."
The USGA went on to note that "a natural sandy area is not a hazard, and a player whose ball lies in such an area may ground his club lightly in, or remove loose impediments from, the area as the area is through the green. The PGA Tour Rules Committee identified a number of these areas around the Harbour Town Golf Links, referred to them as "waste areas" on their Local Rules sheet and treated them as areas through the green for the competition."
This is exactly what the PGA is doing this week at Kiawah—treating all sandy areas as "through the green."
To me, this raises the larger question of why bunkers have the unique status they do.  Many hazards are marginal to the line of play, but bunkers are usually integral to the hole.   I understand why you can't improve your lie in a bunker (as you can't anywhere), but why can't you take a practice swing as long as it is done in a way that won't improve your lie?   Players who are in the rough often take many practice swings before unleashing at the ball.  What's the difference?   They are "testing conditions" as they prepare the shot.
The PGA Championship provide an interesting test here of whether or not being able to ground your club and take practice swings in what are bunkers in everything but name has any impact on scoring.  Looking at how often players get up and down from greenside "sandy areas through the green" as compared to when they are playing from bunkers would be a good measure of the effect of the decision to adjust the rules.