Ernie Els' unlikely victory in the Open Championship at Royal Lytham pumps a large dose of decency and grace into the weakened soul of golf.   As much as Tiger Woods' charisma and dominance have influenced golf to change in some undeniably better ways, his rude persona on the course, his grating boorishness and vulgarity, have undercut the decorum and courtesy that have always characterized the game at its best.   Tiger may smile and shake his opponent's hand on the 18th green these days, but he still swears, smashes his club into the turf after a bad shot, and in general comports himself with the boorishness of a surly teenager.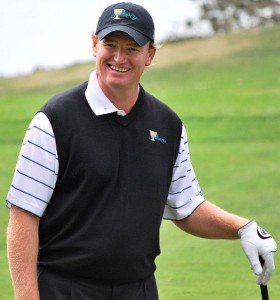 The contrast post-victory between Els, who is a real grown-up, and whose first thought upon winning was to express sympathy for his good friend, Adam Scott, who lost the Open as fully as Els won it, and Tiger, whose instinct in the winner's circle it to put his foot on the neck of his rivals, could not be greater.   Scott, too, showed great character in the wake of his collapse, perhaps having learned from his country's greatest player, Greg Norman, how to handle disappointment.   He may have lost this Open, but he won over the galleries with his composure and grit, and will surely continue as a contender in majors over the coming years.
Els can now leverage this victory at the age of 42 into the perks that a great golf career affords: golf design commissions, endorsements, the right to play in all the majors for the remainder of his competitive life.   These rewards are well-deserved.   Like Tiger, Els suffered serious injuries and endured a difficult rehab, but he's also stayed faithful to his family and friends, and to his long-time caddie, Ricci Roberts.  Moments after Scott missed the putt that would have sent the Open to a playoff, TV coverage switched to a shot of Els on the practice green.  A tearful Roberts walked up quickly to hug Els, who wrapped his left arm around the caddie and patted his chubby cheek, as a father would a beloved son.   It was an affecting moment, showing what golf can provide to those of us who love the game—the pressure to win, resolved in agony or glory.