Links golf courses are not popular in China, where Augusta National is regarded as the beau ideal.   This is ironic, because Bobby Jones and Alister Mackenzie both esteemed links course above all others, and the Old Course at St Andrews most of all.  Mackenzie insisted that the "Spirit of St Andrews" pervaded Augusta National, although its ghostly presence may no longer seem obvious.   Not reading too much about the design implications into the contrast between Augusta's verdant perfection and the mottled chiaroscuro of a typical links requires some understanding of what strategic golf design is.   That takes some work, as Bobby Jones himself discovered.
The British Open is always played on one of the nine links courses of the "rota," the Royal & Ancient's select group of championship venues.   This year the Open is being held for the 11th time at Royal Lytham & St. Anne's, on England's northeast coast, near the Irish Sea.  Jones won the first Open ever contested at Royal Lytham.  Links courses such as Lytham have an unruly, rumpled feel, especially around their edges, where gorse and heather and waist-high dune grasses contrast with the closely-mown turf of the playing ground.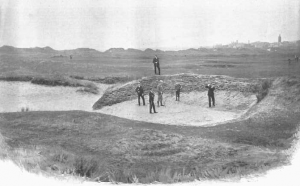 When golf first migrated from Scotland, carried in the minds and hearts of Scottish professionals to England, the United States, Canada and other British dominions, the links course was the accepted standard.   But linksland is uniquely coastal, and golf courses had to adapt as the game spread inland to new locations characterized by different kinds of soils and vegetation.   Sandy inland sites do exist—Pine Valley, which many experts regard as the best course in the world, is essentially an inland links course, built far from the coast in the sand barrens of southern New Jersey—but true linksland is rare.   In the 1990s, golfers discovered a new Mecca in the Sandhills of Nebraska, which has hundreds of square miles of perfect linksland even though it's thousands of miles from the sea.  Chile has the best linksland I've ever seen, but no golf courses at all.  And Bandon Dunes in Oregon, by most rankings now the world's number one golf resort, has resurrected interest in true links golf in America with its four links-style courses.
In the absence of linksland, a new golf course style evolved in England and America, borrowing from the landscape tradition of the formal garden.   By the 1920s, this so-called "parkland style" predominated on inland golf courses, whether in the UK or the USA.   Parkland courses differ from links above all in having trees along the fairways, a design element entirely missing from links courses.  Parkland courses combine formal landscape elements, such as specimen trees, ponds and formal plantings, with the normal features of a golf course.   Hazards–and especially bunkers–took on a stylized precision quite unlike the irregular, random-seeming hollows and fizzures one sees, for example, in the bunkers at Royal Lytham–even though the Lytham bunkers, too, were dug by humans, not sheep.
The fairways at Royal Lytham are dotted with more than two hundred bunkers, mostly placed where they're hard to see from the tee and shaped so that even a good tee shot can roll into one.   Golfers playing in the British Open have to accept their fates—the ball will go where it wants.  Mackenzie said that the "real object" of hazards was not to punish players but rather "to make the game more interesting."   By this measure, Lythem has interest galore.  And in Mackenzie's view, not just bunkers but "undulating ground, hummocks and hollows" are themselves "a minor kind of hazard."   At Augusta, Mackenzie took advantage of the terrain to shape and place the holes, but his design called for only 22 bunkers.   He also forswore rough, which he thought was simply "penal" and not a true hazard as he would define it.   Again, this is true to links golf, where the boundary is not between perfect fairway and graduated rough, but between fairway and gorse or whins, or at best tall but wispy unmown grasses.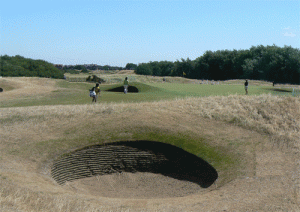 The Lake Course at the Olympic Club, where the US Open was played in June, has only one fairway bunker, but Olympic's canted fairways embody Mackenzie's observation that the ground itself can be a hazard.    What really differentiates links golf from a parkland course is the uncertainty of the roll and the firmness of the fairways.  Balls bounce erratically on links courses, whereas they typically stop where they fall on the soft watered fairways and greens of a parkland course.   If you've been raised on a parkland course, as Bobby Jones was, a links course on first encounter can seem odd, unfriendly and even unfair.  Jones disliked the Old Course so much the first time he competed in an Open in 1921 that he tore up his scorecard and disqualified himself before finishing his third round.  He'd made a six on the par three 11th, a hole Mackenzie would later call "one of the most ideal holes in the world."  The 11th, Mackenzie said, could frustrate a great player trying to make a birdie (as Jones was), while it concedes a bogey to a duffer who's willing to avoid the risky direct line to the hole.   This is the sort of thinking that is embedded in Augusta's routing, where risk-reward strategy prevails.
The Scots were deeply offended by Jones' tantrum, and a local newspaper wrote that "Master Bobby is just a boy, and an ordinary boy at that."   Jones was ashamed about his behavior, and by the time he returned to St Andrews for the Walker Cup in 1926, his view of links golf had changed completely.  He finally understood what Mackenzie taught: first-class players can hit the shot they must from a hanging lie, while a lesser player will fail.  Harder conditions, Mackenzie knew, favor the best player.  That's what makes the links courses true championship tests–can you accept the challenge?
Once Jones understood this, he would win an Open on the Old Course in 1927 with such brilliance that the citizens of St Andrews embraced him, literally—they carried him from the course in triumph on their shoulders.   Jones later won the British Amateur on the Old Course in 1930, and long after his playing career was over St Andrews would name him a "Freeman of the City."
Jones won the first of his three Opens at Royal Lytham in 1926, right after playing in the Walker Cup at St Andrews.  In those days, the two final rounds were played on Friday, so the members could have the course back for the weekend.  Jones went to his hotel to rest between the final rounds, and on returning discovered that he had left his competitor's badge in his room.   The security guards didn't recognize him, so he had to buy a ticket to get in!
Bernard Darwin, grandson of the great scientist Charles Darwin and England's most famous golf journalist, described Royal Lytham in 1911 as "very smooth and trim, and just a little artificial."  For Darwin, just as for many students of golf course design today, "artificial" was an unflattering word.   Not long after, many of the bunkers we see today were added.   Just as Mackenzie did, Darwin believed that all proper golf courses should look "natural," and that's still a guiding principle for most modern course designers.    Lytham would look a little more "natural" if it were adjacent to the sea rather than set inland, separated by dwellings.
Links golf above all else is about providing golfers with choices.  Too many modern courses provide only a single way to play a hole, while the links courses, and the designs of Alister Mackenzie inspired by them, lay out strategic options.  Mackenzie's brilliance still reigns over Augusta National, but it was learning the lessons of the linksland that gave Mackenzie the secret to his success.
A CHANCE TO PLAY GREAT LINKS COURSES, COURTESY OF PERRY GOLF
If you've never had the chance to play links golf in Scotland, Perry Golf, the preeminent golf travel company, has the opportunity of a lifetime for you.  Go to  www.perrygolf.com/win to learn more.  The lucky winner will travel to Scotland next April and play, among other courses, the Ailsa Course at Turnberry, the estimable Royal Dornoch, where Donald Ross learned what makes a great golf hole, to Gil Hanse's new Castle Stuart course, where India's Jeev Milkha Singh just won his way into the Open by beating the Italian Francesco Molinari in a playoff in the Scottish Open.   Golf's international appeal is exciting, but going to the fountainhead of golf is a life-changing experience for an avid golfer–go for it!