In the spring of 2007, I attended a tribute hosted by Colm Tóibín in honor of novelist John McGahern at the Irish Film Institute in Dublin. An enthusiastic audience watched a series of clips from films either written by McGahern or based on his stories, with commentary on each provided by Tóibín.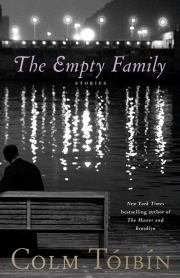 Tóibín spoke of his recently deceased friend with generosity, admiration and affection. He recalled McGahern's anguish when a director asked him to doctor some dialogue during a shoot. Tóibín said that his own background in journalism had equipped him to dash off sentences on any subject without inhibitions, but McGahern agonized over every word he ever wrote. McGahern told the director that he was willing to write new dialogue, but it would take him several weeks.
Tóibín may write as effortlessly as he claims, but his work nonetheless sits comfortably on the shelf with McGahern's among the best contemporary Irish fiction, a stature confirmed by Tóibín's new collection of stories, "The Empty Family."
Unlike McGahern, who never strayed far from the rural Ireland of his boyhood, either in his life or in his work, Tóibín represents a modern take on the Irish diaspora, with stories in this collection set in Spain and the U.S., where he has lived, as well as in Ireland. (Tóibín's most recent novel, "Brooklyn" — also his first major commercial success in the U.S. — likewise dwells among the overseas Irish.)
"Two Women," for example, chronicles the return of an Irish expat from L.A. to Dublin. Now in her 70s, Frances Rossiter designs movie sets. She has never married. Tóibín's insider's view of the movie business, on display at the McGahern event, animates this story, but the energy comes from Frances' angry solitude, the shield guarding her sentimental soul.
As with all of Tóibín's stories, the writing is unadorned but careful, and one sees in every line the influence of Tóibín's acknowledged inspiration, Henry James. "Two Women" is written in the third person, but many of Tóibín's tales are told in the first person. While his language is never idiosyncratic, and both women and men tend to think and speak in the same clear manner, Tóibín nonetheless creates plausible characters with distinct and particular points of view.
The first story in "The Empty Family" is a direct homage to James, while several others, including the near novella-length story "The Street," explore the homoerotic terrain that lurks in the interstices of James' journals and letters and surges to the surface in a number of his stories. "The Street" also deals with the experience of émigrés, in this case Pakistanis living in Barcelona — a doubled exoticism. But without pyrotechnics or obvious stylistic tics of any kind, Tóibín evokes a credible world of loneliness, generosity and hope.
There is nothing blatantly "Irish" in Tóibín's prose, even when the stories are set in Ireland. Joseph O'Connor's new novel, "Ghost Light," is based on the life of the playwright John Millington Synge. It was Synge who wrote in the introduction to his most famous work, "The Playboy of the Western World," that "every speech should be as fully flavored as a nut or apple." O'Connor's novel obeys this admonition, while Tóibín's stories abjure adornment or frills. Each writer succeeds in his own way, but Tóibín's prose acquires its authority by renouncing flourishes or extravagance, proceeding along a carefully traced narrative path that generates trust in his readers, who will cling to his guidance like tenderfeet following a grizzled guide into the wilderness.
Tóibín's stories also use recollections of music to set moods, and explore the tension between memory and desire. Families tend to fracture in Tóibín's world, and loneliness seems as inevitable as death. These are great stories by a writer who is both big-hearted and unafraid.
THE EMPTY FAMILY, by Colm Tóibín
Scribner, 2011, $24.00 Hardcover, 288 pages
This review first appeared in The Oregonian, February 6, 2011.  For an interesting interview with Tóibín go to: http://www.youtube.com/watch?v=9nq0Gy5M1PY