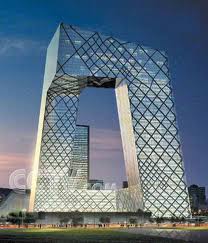 China Daily reported in 2010 that Beijing's population had reached twenty-two million people. (Eight to nine million of these are "non-permanent residents.") City planners hope to cap Beijing's size at eighteen million, but that seems implausible—how do you shrink a city that's already a magnet for every ambitious person in a country of 1.3 billion?
Beijing sprawls across 6,489.5 sq miles, which means, according to Wikipedia, that its land area is slightly larger than the country of Montenegro. The Beijing Visitors Bureau says the city has more than 60,000 official taxis and 130,000 drivers, and that doesn't count the thousands of black taxis, which I avoid.
Yesterday, two colleagues and I visited a potential golf course site northwest of Beijing, just off the Jingping Expressway near Beijing's main airport. We hailed a taxi on the street in front of our hotel at mid-day, in the Sanlitun district—what locals call the diplomatic quarter, where the foreign embassies are clustered. We drove 70 kilometers to an area called Pinggu, and the driver—who by coincidence was from Pinggu– waited for us while we spent an hour and a half touring the site. The area was typical of rural Beijing–lots of greenhouses dotting the landscape, all constructed in a simple style: brick walls oriented east and west, with a solid wall on the north and pipes arcing from north to south as scaffolding for sheets of plastic facing into the southern sun. Reed mats are rolled onto the roofs when the greenhouses need to catch the sun, and unrolled at night over the plastic to hold the heat in. It's a simple but efficient system that helps feed the colossus.
The site we visited was bounded on two sides by a small river or drainage way, with dikes on either side to handle the occasional spring flood. Our guides told us that over the last twenty years stormwater had never crested even to the base of the dikes.  There was a plant nursery in the center of the site, and crews were planting trees along a berm on the main highway running north along the east side of the property.
We rolled back into Beijing on the cusp of rush hour, and the driver managed the ebb and flow of cars, trucks and buses with calm confidence. Being a passenger in the front seat of a Beijing taxi requires some practice, so you're not in a constant state of panic when the driver turns directly into oncoming traffic to make a left turn, or bears down on a bike or pedestrian caught in the crosswalk.   Somehow it all works out….most of the time.
Traffic was thickening as we passed the underpants, the famous CCTV tower designed by Rem Koolhaas. A pink Ferrari blew past us on the shoulder, its high growl audible over the traffic noise. We were about a block from our hotel when it was clear that we could save twenty minutes and a few RBM (the Yuan, or the people's money) if we just got out on a side street and hoofed the final few hundred meters.
As we walked to the hotel, we discussed the follow-up letters we needed to write to the potential client we'd just met, planning the rest of our day. Then I discovered that my phone was not in any of the abundance of pockets in my jacket or pants. I was slapping my chest and thighs hoping to feel the blunt rectangle of my I-phone when the sinking feeling hit me—that phone was gone. I had a receipt from the taxi—a 150 kilometer round trip and a 90 minute wait had cost us 530 RMB, or about 85 dollars. (Beijing taxi drivers don't expect a tip.)
Our Chinese colleague, Vivian Zhou, dialed the phone number on the receipt and managed to get the taxi driver's mobile number. She called him, and he not only confirmed that the next passenger he picked up, who he described to Vivian as a middle-aged lady, had taken the phone when she got out, but that he was parked in front of the building where he had dropped her. Kirk Miles, my business partner, suggested we call the phone number, but Vivian didn't think that was a good idea. "That phone's worth 5,000 RMB in China," she said. "Let's go meet the cab driver and try to find her."  Besides, Vivian's China Mobile phone wasn't set up for calls to the USA.  Besides, Vivian said, she was sure the lady was taking the phone.
So with a certain urgency we hailed another cab, and within ten minutes were pulling up in front of an office tower near the Kerry Center, one of Beijing's premier hotel and shopping areas. Our taxi driver was parked in front of the building.  He went to park his taxi so he could come and help us identify the lady. Then Vivian's phone rang—and it was the lady with my phone, trying to find me! She had already called the other numbers in the recent calls queue—my wife and my sister-in-law back in Oregon, both of whom were sleeping and ignored the calls. As I was pointing to a dark-haired middle aged lady coming out of the building, mouthing "is that her?", Vivian was shushing me. "It's the lady," she said sotto voce.
Just then the taxi driver came up, and Vivian explained what had happened. With a stuttering of "xie xies" I handed him 300 RMB, which Vivian said was too much for his help, but I would have felt ashamed after what he did had it been any less.
I was going to get my phone back! I was astonished that it had been so easy. We went into the office tower, rode the elevator to the 11th floor, and met Ms. Ma, the honorable lady who had found the phone. She was the CEO of a talent agency and television production company whose clients performed on CCTV, where she had previously worked as an executive producer for a "Chinese Idol" program called "Star Avenue." Vivian knew this program and a number of the actors and actresses whose pictures were on display. We tried to offer Ms. Ma some reward but she refused.
After we took some pictures and exchanged name cards, we took our leave. But I wanted to give Ms. Ma something, so we went to the shopping center and got a little gift package of scented candles and incense, and I found a card and had Vivian translate a flowery thank-you note, expressing my gratitude and telling Ms. Ma that I hoped every time she smelled the fragrance she would remember the good deed she had done. Vivian kept confessing that she felt bad that she thought the lady was going to steal the phone.  "I feel guilty," she said.  When we gave Ms. Ma her gift she looked pleased but was not sentimental.  She served us tea at her desk, and was clearly keeping long hours.  "Look at that cot," Kirk said, pointing to an alcove adjacent to her office.  "She probably sleeps here when she's working late."
Despite appearances, Beijing works. The chaos hides a deeper order, built on the honesty of the people and deep cultural layers stressing honor. We're going to send the taxi company a fancy letter telling its bosses how much we appreciated what the driver did. Vivian said maybe he will get a gold star for his taxi. He deserves it.  And I will now ride Beijing taxis with a greater faith than ever in the skills of the huge fleet's legions of drivers.