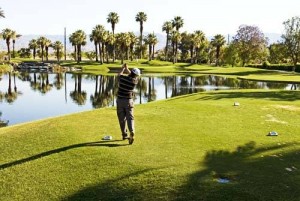 The Palm Springs Golf Road Warriors bivouacked at the JW Marriott Desert Springs Resort & Spa tonight, resting before they launch their assault on the Coachella Valley's golf courses tomorrow.   Jeff Wallach and I did some early reconnaissance today at the Desert Springs Resort's Palms Course, designed by the late Ted Robinson in the mid-1980s.   The course has all of the characteristics of Robinson's style, most notably the hard serrated-edged lakes (in abundance, but rarely strategically placed) and side-walled fairways that invite the use of the driver by shaping slightly mishit drives back toward the center.  The course was in wonderful condition, reflecting Robinson's preference for minimal rough and long, elegant shapes to the fairways.   The over-seeded ryegrass glowed in the afternoon sun.
Wallach and I were joined by John Faulk, Desert Springs' Director of Golf, who oversaw a refurbishing of the Palms course last year by Ted Robinson, Jr., for a 9-hole tune-up before our comrades arrived.   John is a crafty lefty with a tidy game who amiably declined to offer Jeff or me any advice on our swings.  A long-time Marriott Golf pro, John worked for a time at Marriott's Camelback Resort in Scottsdale, which I believe was Marriott's first golf resort.   Many top club and resort golf professionals throughout the United States honed their craft at Camelback.  Scott Mallory, who is Director of Golf at the Hills & Forrest-designed course in Temecula at the Pechanga Resort and Casino, worked with John in the 80s at Camelback.
Jeff didn't need any help.   We had five bucks riding on our match.  I lost 5-4, and it wasn't that close.  Wallach hit every fairway with that new Callaway RAZR Fit driver, and while my tee shots were nothing to sneer at, I couldn't seem to finish a swing with my irons and flared every shot off to the right, a kind of weak pseudo-fade.  It's never a good idea to get in a back bunker on a Robinson course, either, because there is more than likely a lake lurking on the other side of the green, just waiting to welcome any thin bunker shot.  
This week, Palm Springs is celebrating Midcentury Modern architecture in addition to the official visit of the Golf Road Warriors.   This architectural style "was known for its clean lines and blending of indoor and outdoor spaces," according to local writer Monica Hodge.  Palm Springs has one of the largest concentrations of Midcentury Modern homes and buildings in the US.   It struck me in looking at examples of Midcentury Modern buildings that the term could equally well apply to Ted Robinson's course designs, which share its aesthetic tenets.   Robinson's lines, too, are clean and easy to read, and the courses blend well with their settings.  There is an admirable restraint in their ambitions.   Just as the accomplishments of the Midcentury Modern architects appeal to an appreciative public worn out by the excesses of the past couple of decades, so too does the pure uncomplicated style of Ted Robinson's golf courses satisfy the needs of the vacationing golfer.