Willie Nelson's anthem keeps cycling through my brain as I wrap up my preparations for the Golf Road Warriors' trip to Palm Springs next week, February 21-27.  "I just can't wait to get on the road again!"  
I'm not unaccustomed to traveling, but most of my journeys over the last twenty years have been strictly for business.  I've flown a couple of million miles, but  I haven't felt so excited and eager about anything since I was getting ready to play in my first youth league basketball game when I was ten.   I wore my uniform to bed for a week, and dreamed of how high I would jump in my new Converse Chuck Taylor All Star kicks.  
I haven't actually slept in my AUR shirts, fashioned from EcoSmart fabrics made from recycled plastic bottles, but I thought about it.  I did show the shirts to my next door neighbor, the Happiest Man on Earth, who is a nationally recognized expert in recycling, and he fondled the fabric a bit and pronounced it good.  The shirts are incredibly light, which should allow the old muscles to swing with that graceful tempo that characterizes all–most, some, a few, both–of my best shots.
The golf bag Callaway sent has been loaded with my RAZR irons and hybrids, which I got last summer in Portland after a fitting session with my friend and teacher, Don Otto, and they're joined now by my new RAZR Fit driver, which Callaway also kindly provided, and which I discovered in two practice outings that I hit almost as well as Phil Mickelson hits his.  The driver looms over the rest of my clubs, which is only fair as it covers the most ground on almost every hole.   It's the big dog in my bag, and I expect it to do some serious hunting next week.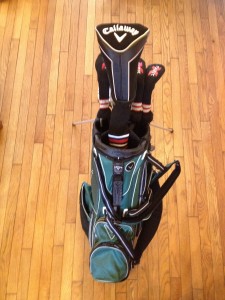 Since I will be checking my own clubs on the flight down, so I will be able to play at my splendid best in Palm Springs, I am also going to be traveling with the wonderful new Travelpro suitcase that is the official luggage of the Golf Road Warriors.   (Most of the rounds I have played on the road over the last couple of decades I've used rental clubs, since I never check bags on business trips.   If you're flying almost every day and the bag gets lost on the first leg, it never catches up.  I once had a bag follow me from Spain to Norway to Ireland and then finally to San Francisco, and I wish I had given it a dairy so it could have told me whether or not it had a good trip.)
The Travelpro bag is a deep, almost iridescent blue, a really classy color that will stand out amidst all the tedious generic black bags coursing around the luggage kiosk.   I am going to be on the road for almost another full week after the Road Warriors wrap up their Palm Springs trip, so I will need to pack for six full days of golf plus another six days of a conference and meetings, which means I have to pack business attire as well as the golf duds.   There's plenty of room in that A twenty-five inch Travelpro MaxLite 2 Expandable Spinner.
The world's leading authority on getting ready for a golf road trip is, of course, my colleague, Jeff Wallach, so I have been studying his compendium of golf travel packing tips to make sure I have everything I need.  (Or, alternatively, knowing that Jeff has all the necessary first aid gear and legal drugs for aches and pains, I can plan on mooching off Jeff.)   Jeff has also been getting in my pocket over the last couple of years, somehow breaking 80 with that lunging slap shot he's perfected while my smooth-as-silk swings are for some mysterious reason sending balls into oblivion.   This is the mystery I expect to solve in Palm Springs.