The PGA Show in Orlando last month illuminated what's good as well as what's troublesome in the golf industry.   The big players in equipment and clothing and shoes—Callaway, Ping, Titleist, Nike, FootJoy and so on—occupied prominent spots on the convention floor, sort of like anchor tenants at a mall.   There's no question that the technological innovations the equipment makers are offering to the average golfer today make the game a little bit easier and a whole lot more enjoyable to play.  America's genius for building great brands and managing their customers' hopes was abundantly on display.
I have proof the new technology works.    I started using a Callaway RAZR Fit driver the week after the PGA Show.   "The OptiFit Hosel allows players to adjust the face angle for improved accuracy and trajectory," as Callaway's website explains, "while the OptiFit Weights can be adjusted to promote either Draw or Neutral ball flights. Golfers can dial in their ideal settings and hit drives like never before with simple adjustability that matters."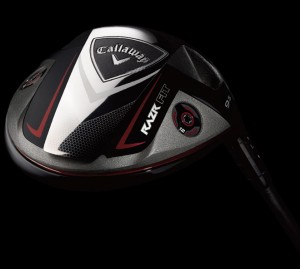 I discovered with the RAZR Fit that I have a factory setting swing.  I didn't have to adjust anything—the first drive I hit on the range with the RAZR Fit was long and straight, and that was good enough for me.   I have played two rounds since then and the driver was the best club in my bag.
STREET READY GOLF SHOES
Another product category that really impressed me at the PGA Show was the comfortable, street-legal style of golf shoes that ECCO pioneered with the "Street Premier," made instantly famous when seen ambling along the fairways on the feet of Fred Couples.   Now Callaway has the "Del Mar,"  Ashworth has the "Cardiff" (which most closely resembles the ECCO original) and Footjoy both the "Contour Casual" and the "FJ Street," which looks a lot like the original 1950s basketball low top.   Crocs, which started as a boat shoe company in Colorado, has created the "CrocsGolf with Hank Haney" line, which will be available this spring.   Crocs could be strong competitors in this category, because the emphasis of their shoes has always been comfort rather than style.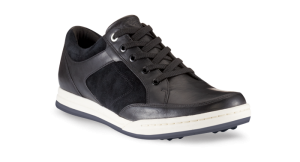 Footjoy also has had a line of spikeless shoes for years, sold as "teaching shoes" but perfectly fine for playing in, especially in the summer.  But those styles echoed the standard spiked golf shoe of years gone by, rather than the sport-shoe look of this latest wave of comfortable spikeless shoes.
I well remember seeing a small booth at the GCSAA Show (now the GIS) back in the 90s where a new company called Softspikes was introducing its product, pitching it to superintendents because  it was much kinder to the green surface than what David Faherty calls "nails"—that is, the old-time spikes.  Softspikes was offering samples from a fishbowl, and I remember examining that odd looking cleat and hoping it would catch on.   Now, of course, not only is the notion of a softer cleat ubiquitous, the next step has been taken  toward the ultimate spikeless shoe, the hybrid golf/street shoe.
INNOVATIONS
Because they're looking for ways to promote their products and let consumers know about their new offerings, most vendors at the PGA Show welcome the press (although I discovered one notable exception—see below).    The new product area especially features enthusiastic representatives, often the product's inventor or developer, who may have dipped into his 401K to launch his new company.
There were two vendors of slip-on spikes—that is, a product that slips over your regular shoe to turn it into a "golf shoe."   Quick Spikes, was very simple, a kind of rubber trellis with spikes attached to the bottom that will retail for $25.00.   The other product does the same thing but is a little grander, with a heel and toe, so it looks more like a galosh, and it costs twice as much.   I think the slip-on is a great idea, but it has to compete with the street-ready spikeless shoes, which can accomplish the same thing that the slipover offers—a shoe that works both on and off the course.
Steve Bolt is a product developer from California who has put together a package of ball markers with faces resembling a compass that can be used to help practice your alignment on the putting green.   I heard Nick Faldo say on a recent broadcast that the single biggest problem for high handicappers is getting aligned properly, so the Birdie Marker system has a large potential market.   Steve has the markers made by a colleague in China, Terry Lu, whose Hold Tight Development Company has been making a variety of promotional items in its Guangdong province  factory for the last fifteen years, including prints and posters to decorate clubhouses.
Greg Freuler is another product developer who lives in Oregon.   He had prototypes of a towel with what looks like a large button hole on top so it can slip over a club.   Great idea–simple and efficient.  It's called the Looper (a name that caught my eye because it's also my best friend's nickname.)   Look for it later this spring.
"The Little One" is a clever training aid—sorry, "game improvement club"—introduced at last year's show that its developers say will "improve your tempo, concentration, ball striking and overall confidence."   That should do!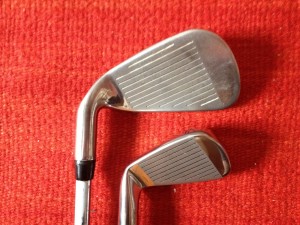 The Little One has a standard shaft, but the club head looks as if it went through the dryer on hot when it was supposed to be on tumble.    The idea, of course, is that if you can groove your swing to hit flawless shots on this tiny face, when you grab that big boy club the  ball is going to look like a pellet.  Makes sense to me.  Brothers and Little One developers Jim and Dan Bonomo told me to start with chips and pitches and slowly work my way up to full swings.   At the rate I practice it may be 2014 before the results are in, but I am confident that the Little One will work.   When I was kid growing up in the Midwest  and dreaming of the major leagues, we spent endless hours playing cork ball—wielding a broomstick sized bat trying to hit a ping-pong ball sized baseball that zipped and curved like an offering from Bobby Schantz.   When you looked at a real baseball, it seemed to drift toward you like a balloon.
THE UGLY
Bugatchi is a men's clothing line with a name that sounds like a cross between a vintage Italian race car and a wine bottle wrapped in a straw basket.  I'd like to tell you more about what they actually sell, but I was denied entry into their rather elaborate stand by a little grey man with a sour expression, who asked me if I was a buyer and if I had an account.  I told him in a friendly way that, no, I was there as a writer, just looking to see what new products were being introduced at the show.   He said I would need to leave as they were busy.
I looked around and saw only a couple of "buyers" eyeing the goods.   Didn't look as if it was a real popular brand to me—lots of brown and grey wool sweaters as far as I could tell.  Maybe they're shooting for the elderly country club demographic. Bugatchi claims its clothing is "Italian inspired," as opposed to actually being designed by someone who knows what Italian style is—like, say, someone from Italy.  There was nothing there I could take in with such a quick glance that I would have any interest in wearing, and the styles didn't so much say "Italy" to me as they whispered "New Jersey."
So as an American journalist with an interest in free expression, I am urging a boycott of Bugatchi apparel.  I don't think any of my crowd frequents the sort of shop that would carry Bugatchi "goods," but if you ever see a dull brown or grey sweater on a remaindered rack somewhere, let the next guy buy it.   Claiming clothes designed in Boca Raton are "Italian inspired" takes some chutzpah, but if we're good at anything in America, it's mythmaking.
The Italian director Sergio Leone helped Clint Eastwood perfect the persona that established him as a great star in the series of movies known as "spaghetti westerns."  The Eastwood persona was used to perfection by Chrysler in a Super Bowl ad celebrating the resurrection of Detroit.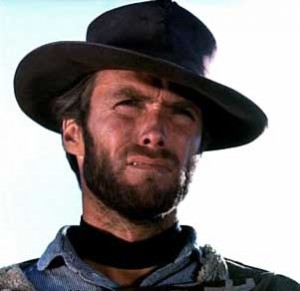 The NY Times reported that when Fiat boss Sergio Marchionne gave 700 Chrysler dealers a preview of the ad in Las Vegas on Super Bowl weekend, they gave it a standing ovation while Marchionne wept on stage.   Like the dealers—and apparently unlike Karl Rove—we believe in that Eastwood persona, because it has shown us repeatedly how righteous virtue can triumph over evil.   We like the good guys to win, especially when they're tough.
The irony, of course, is that Leone filmed his "westerns" in Spain, and the "west" they evoked was the Hollywood myth rather than America's authentic, historical western experience.   Most cowboys in the heyday of the cattle drives were in fact Mexican or black.  A cowboy was a proletarian on horseback, working from sunup to sundown every day and then not guaranteed to collect his wages.   Justice was elusive, and the law less in the hands of upright sheriffs than bigoted lynch mobs.
The golf industry too often relies on its own myths rather than facing the reality that the game is stagnating, and the crisis is not attributable solely to the lousy economy.   We have unbelievably great courses in America that we can play at accessible prices, and we have access to the best equipment and teachers, too.   But we have not found ways to halt the game's popular decline, and faux Italian clothing lines don't point to the path forward.