When Darren Clarke won the Open Championship last week, he not only collected the $1.4 million first prize money from the R & A, he earned a bonus of two million Euros (about $2,833,000) from Dunlop, courtesy of a clever marketing deal created by his agent,  Andrew "Chubby" Chandler.  Lee Westwood, another Chandler client, had the same deal, but didn't make the cut.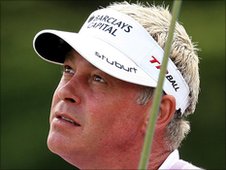 Clarke and Westwood were to wear the Dunlop logo on their shirts for no money up front, but each stood to collect a small fortune if he won a major.  Chandler and Clarke were betting on their own success, eschewing a guaranteed payment for the chance at a jackpot.
According to a July 13th report by Charles Sale in the MailOnline, the web version of The Daily Mail, "the agreement was struck six years ago between International Sports Management boss Chubby Chandler…" and Newcastle United football team owner Mike Ashley through Sports Direct, a publicly traded online retailer founded by Ashley which owns the Slazenger and Everlast brands as well as Dunlop.
In looking ahead to the Open, Sale thought Lee Westwood, ranked world's number two and projected as among the favorites at Royal St. George's, was the likeliest candidate to earn Ashley's millions.   David Howell was also eligible for the bonus for winning a major, Sale noted, but wrote that it was a "safe bet that neither Clarke nor Howell, who failed to qualify, will be enjoying Ashley's millions."  The bookmakers had Clarke at 125-1.
Matt Judy, EVP of Blue Giraffe Sports out of Atlanta, admires Chandler's gambling approach to endorsement deals, but also sees the much different market reality in the States making such arrangements unlikely.  "The approach Chubby took was unique and is not a common one in the US market," Judy says.   "Most deals done here have some type of compensation involved up front and are not totally based upon incentives."
America may be the theoretical land of unrestrained capitalism, but when it comes to risk, European golfers seem a lot more willing to put their games on the line.  The all-exempt PGA Tour has created a market loaded with incentives to do well enough but not necessarily great.  Top 10s and even top 25s finishes consistently achieved can provide a grand income.
It's perhaps not surprising that players such as the supremely confident Rory McIlroy—another horse in the Chandler stable—prefer not to commit themselves to the PGA TOUR full time.  They can earn appearance money overseas, but they can also leverage their wins through incentivized endorsement deals.
There are 54 players who have earned over a million dollars on the PGA Tour so far in 2011.  Twenty-six of them have won tournaments (including three two-time winners.)   That means there are twenty-eight players who have already won more than a million dollars this year  without winning an event.
"The kind of deal Chubby's set up is legal on the US TOUR" says Judy, who is a graduate of Mercer Law School outside Atlanta, "but our market has not yet widely adopted this type of deal from the corporate or the player side.  With more examples of these type of successes, I think a hybrid of these kinds of deals will become more prevalent in certain situations."
Payments under these "win to get paid" arrangements are usually funded through an insurance policy, Judy explained.  "It's just like hole-in-one insurance" he said.   The cost of the insurance policy would be roughly the same for a company as the annual endorsement payment to a player of Clarke's stature.    It's not clear, however,  how Dunlop has funded its payment to Clarke.
If the payment had been provided through an insurance policy, somebody—probably through Lloyd's of London—figured out the odds for Clarke winning a major and wrote a policy to cover that unlikely event.  (I would love to meet the actuary whose job it is to handicap players in major championships.  Meeting with the oddsmakers at the betting parlors would surely be a part of the research required.)
Dunlop was not really much at risk for the €2M, even if it has to cough up to Clarke.   Dunlop's logo is featured in every interview and photo of Clarke, who is immensely popular already and will now be even more in demand.  Dunlop is getting its money's worth.
Chandler's players currently hold three major championship trophies:  The Masters (Charl Schwartzel), the US Open (McIlroy) and Clarke's Claret Jug.   His influence as an agent and International Sports Management's (ISM) stable will surely grow.   But unless there is a shift in sensibility, Chandler's clever strategies for leveraging his players' successes may never play well among American professionals.