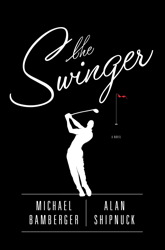 The Swinger is the kind of novel the French call a roman à clef. A literary strategy designed to pillory real people by creating characters whose identities have been disguised just enough to give the author—or in this case, authors—plausible deniability, the roman à clef has long been used to settle scores, or to provide an insider's view of well-known events.
The roman à clef is a kind of literary push poll.  Joe Klein's Primary Colors was a roman à clef, skewering an imaginary Bill Clinton on the campaign trail, while Robert Harris' The Ghost, the basis for the film "The Ghostwriter," was the literary evisceration of a fictional British Prime Minister addicted to deceit which was clearly based on Tony Blair.
If you don't want to know what happens in the The Swinger, stop reading now.  I don't know how to review this book without giving away the plot.
OK
We have in The Swinger a coded version of Tiger Woods' life post-scandal, courtesy of two of Sports Illustrated's finest golf writers, Michael Bamberger and Alan Shipnuck.   Naming the main character  "Herbert X. 'Tree' Tremont" signals to readers that their imaginations will not be taxed by trying to break The Swinger's code. Tree is a mixed-race golfing prodigy with multiple majors won, an income north of one hundred million a year, and a gorgeous Italian wife named Belinda.  He has a taciturn caddy from overseas (a Scot, not a Kiwi), an arrogant lawyer as an agent, and sponsorship by an apparel company with an eccentrically exuberant boss.
We're left to guess what the "X" stands for, but on my scorecard, an X means surrender.   No echoes of Malcolm X and his repudiation of slave names sound in the deliberately race-neutral sagas of either Tiger Woods or Tree Tremont, but a hint of Mandingo lurks in The Swinger's description of Tree.
"Even from two hundred yards away, Tree Tremont was an unmistakable figure.  He was built like a martini glass, with powerful shoulders and a chest tapering to a thirty-inch waist, all of it accentuated by his tight European-cut clothing that Belinda hand-picked for him, as Tree liked to remind reporters…Tree's stride radiated athleticism, confidence, superiority.   There was something virile about his presence, certainly for women but for men, too."
The narrator gushing thus about Tree is Joshua Dutra, a Florida-based sportswriter.   The conceit of the novel is that Dutra gets hired by the Tremont brain trust to help guide Tree through the aftermath of a tabloid's discovery that he is not the upstanding family man his PR machine has claimed, but rather a sex-addicted narcissist who lies to his wife as readily as he intimidates his rivals.
There is a Phil Mickelson character in The Swinger called "Will Martinsen."   He is, no surprise, Tree's biggest rival.    "Big Herb"—Herbert X. Tremont, Senior—stands in for Earl Woods.  Some golfers appear in the novel under their real names, echoing a favorite technique in the fiction of E. L. Doctorow— Zach Johnson, Jack Nicklaus, Corey Pavin and Luke Donald are among the famous players making cameo appearances as themselves.   This pumps up the verisimilitude while providing a virtuous counterpoint to Tree's scandalous conduct.
The sportswriter/narrator's first person account provides an insider's view of Tree's self-inflicted wounds and self-destructive fall.   Dutra even accompanies Tree to his stint in rehab for sex-addiction therapy.    Tree is also hooked on a variety of pain-killers and performance enhancers.   He is not a sympathetic guy, with his yachts and his sycophants and his lies.
Then something curious happens.  Tree and Dutra's business relationship somehow segues into something resembling friendship, and Tree's rehab succeeds.   His therapist is drawn with sympathy and grace, and an Oprah episode breaks out on a Jerry Springer stage.   The vinegar turns to syrup, and the narrative abandons anger and parody for the sweet prospect of redemption.
The Swinger is fun to read, even after it takes its earnest turn and stops dishing dirt.    As with all successful romans à clef, it keeps the reader on his toes, looking for plausible clues about what Bamberger and Shipnuck must really know that lies hidden behind the burlesque.    If pro golfers were readers, The Swinger would surely find a receptive audience among them.
But  as much as I enjoyed The Swinger, I found this counter-version of Tiger's life—and especially one that ends with the Tree character turning into a nice guy, a kind of St Augustine of the links—as incomprehensible as the true story of Tiger Woods' fall from grace.
JS
Michael Bamberger and Alan Shipnuck, The Swinger.  Simon and Shuster, July, 2011.  254 pp, $25.00.