There hasn't been a lot of great news in the golf business lately, so when I heard that Tim Boyle, CEO of Columbia Sportswear, had bought Gearhart Golf Links on the north Oregon coast, I was both encouraged and amazed.  Gearhart's history is richer than its reputation, but it's still the only public course worth playing along the coast between Astoria and Florence.   In contrast to the south, where the Bandon Dunes Resort's astonishing constellation of courses reigns, northern Oregon is bereft of world-class public golf.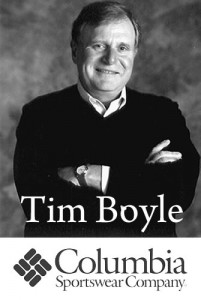 Born and raised in Portland, Tim, along with his legendary mother, Gert Boyle, built their global brand, Columbia Sportswear, from scratch.    Now a public company, Columbia keeps expanding into new markets, building the company with both innovation and acquisitions, merging fresh brands with Columbia's solid corporate culture.  Mountain Hardwear and Pacific Trail are additions to the homegrown Columbia shop, and the Sorel boot brand, once confined to the north woods and the wilds of Canada, has blossomed since Columbia bought it out of bankruptcy.   (Columbia took a brief run at golf clothes, but abandoned the chase when results were disappointing.   The company has had a great run with hiking boots and trail shoes, so maybe some comfortable Columbia golf shoes are on the horizon—the Gearhart line?)
Civic minded, generous and modest, Tim Boyle has always combined business acumen with civic responsibility.   I am happy to call Tim a friend.  So when I heard that he had bought a golf course, during the worst downturn in the golf business since the Great Depression, I had to ask him: "Tim—you're a smart guy.  What in the world were you thinking?"
Tim, as I expected him to, laughed.  He originally was part of a small ownership group which acquired Gearhart after the previous owners went bust about a dozen years ago.  (The Boyles have a house nearby.)   A couple of the shareholders made unsuccessful attempts to run the restaurant side of the business, Tim said, before bailing out.  Tim recruited his friend Mike McMenamin of the McMenamins brewery, restaurant and hospitality chain, to take over, and  McMenamins continues to run the food and beverage at Gearhart.  "There's nothing like a cold pint of Hammerhead Ale in the Pot Bunker room to top off your golfing experience," Tim says, previewing the marketing theme for the new and improved Gearhart, coming your way soon.
Like a lot of golf course proprietors, the family which had run Gearhart Golf Links for many years went sideways when it got too ambitious.  The town of Gearhart is a prosperous seaside community, but Oregonians with money have a habit of keeping it in their pockets (or least not showing off and keeping their consumption inconspicuous), so no one in Gearhart had any interest at all in a fancy golf course designed to impress strangers.   This is not Donald Trump's world.
After a fire burned down Gearhart's modest clubhouse, the previous owners erected a fancy new one and spent a lot of money to renovate the course, which made the whole operation tougher and more expensive to run, which is pretty much the standard golf ownership formula for disaster.  Once a course starts losing money, it cuts costs by skimping on maintenance, which makes the course less attractive, which reduces demand, and thus the wheel of misfortune rolls on toward insolvency along the gloomy trajectory of failure.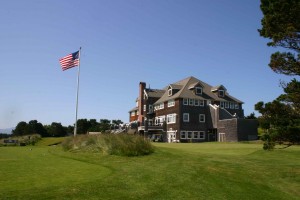 "Over time," Boyle said, "I bought some of the partners out and by last year owned about 40%.  In the fall of 2010 we decided to buy the rest.    Now it's a family enterprise again.  My son, Joe, and my daughter, Molly, are my partners in our new family business."
The younger Boyles are both excellent golfers, but Joe is a recent dad with limited free time, so his handicap is percolating upwards.   Molly played at the University of Washington—she's a real stick.  Tim plays better, too, than he lets on; he's a twelve handicap but broke 80 recently, he confessed, at Nanea Golf Club, the Big Island course in Hawaii that Oregon resident David Kidd designed for moguls Charles Schwab and George Roberts.  Boyle says Nanea is his favorite course, although another Kidd creation, Bandon Dunes, is a strong local contender.
Gearhart has a lot to recommend it, starting with its history.  It's the oldest golf course in Oregon, and perhaps on the entire west coast.   It's not really a links (it has tons of trees and it's tight, two un-linkslike qualities,) but it is near the coast and its soils drain well.  Originally only three greens worth of  golf, Gearhart steadily accreted holes until it reached a full 18 sometime around WW I.    Chandler Egan, the great amateur champion who lived in Medford and during the Twenties designed Eastmoreland, Oswego Lake, Tualatin and Riverside in Boyle's hometown (as well as laying out an extensive renovation for Waverley Country Club, where Boyle is a member), reportedly assisted in the design of the final 18 hole routing at Gearhart over the decade before his death in 1935.   Boyle said he's going to see if there are any archives which might help establish the course's provenance.
"We're going to approach this in two phases," Boyle says.  "First we want to get the course's curb appeal restored.  We've already remodeled the restrooms.   We want to put the course on a solid financial footing."
The  Boyles have hired Greenway Golf from California to put in place a plan to resurrect Gearhart, starting with improved operations.  The team is working with a well-known local consulting agronomist, Forrest Goodling, to improve turf quality.   Boyle wants Gearhart to attract players looking for a straightforward and tranquil place to play.
David Jacobsen of Portland's well-known golfing family, himself a great amateur for many years and also a member at Waverley, is a good friend of Boyle's and an advisor on Gearhart.   "David told me we should make Gearhart the place where you have your best round of the summer," Tim says.
I have heard David espouse this view before, and it has always made sense to me.  The daily fee courses around Portland that are always full and crank out a maximum (if perhaps not optimal) number of rounds each year are the ones which allow medium and high handicappers to score well and not lose a lot of balls.  If a player gets really good, David says, he can head down to PGA West for some comeuppance.  But in the meanwhile, if golf hopes to attract new players and desist from discouraging its current devotees, it has to offer some opportunities for beginners and hackers to experience some success.   Boyle intends to put Jacobsen's formula to the test.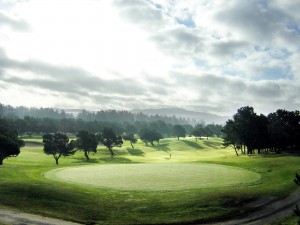 Phase 2 is still a bit formless, Tim says, and will depend on the pace and execution of Phase 1.  "Phase 1 is really just to make sure we're not embarrassing ourselves.  Perhaps we'll do some lodging somewhere down the road," Boyle says.  "We'll market around the history of the course."
Given Boyle's track record, I am sure he will achieve his goals for Gearhart, with help from Joe and Molly and the team of consultants they've brought aboard to assist them.  I've played Gearhart enough to know it can be fun and friendly and exactly the kind of golf course that can meet David Jacobsen's low expectations.  And that's not a slam, it's a compliment.
You can't build a great retail brand without having the kind of x-ray vision that can peer into the consumer's heart.   When someone with the marketing acuity and wisdom of Tim Boyle lays down a bet on golf, no matter how modest, it's a hopeful sign for the future of the industry.
For more on Gearhart from The A Position, see http://jeffwallach.com/golf/1378/gearhart-golf-links