Tom Watson is a class act, his character as sturdy as his everlasting swing.  He treats the game with respect, because he knows and appreciates how much it's given him.  But Watson also gives back in equal measure, especially by treating amateur golfers with respect, acknowledging that while their skills may not match his, their devotion to the game can and often does.   As his long-time literary collaborator, Nick Seitz writes, Watson "enjoys working and playing with average golfers as much as with tour players."
Anyone who's witnessed Tour players discharging their obligatory pro-am duties with disdain, contempt for their hapless playing partners etched on their mugs, knows how rare Watson's empathy is.  It's almost as unlikely as a 59 year old golfer competing in a four-hole playoff for supremacy at the 138th Open Championship.
Thirty-two years after having won his legendary final round "duel in the sun" with Jack Nicklaus in 1977 and lifting the Claret Jug, along the way breaking the Open scoring record by eight shots with a four-round total of 268, Watson was tied with Stewart Cink after four rounds at 278, on an Ailsa course lengthened and stiffened with the hope that it would withstand the power of the fit and athletic new generation of touring pros.  Watson survived the test with an astonishing display of ball-striking until the 18th on Sunday, when he hit two of the best shots on a final hole in Open history, only to have the rub of the green chase his perfectly struck 8-iron all the way across the green and into the rough.  A chip too far, and a difficult finishing putt led to a bogey… and the deflating playoff.  ("I made a lousy putt," he said of 18, as always spurning any excuses.)
The ghost of majors past departed Watson's body on his trek to the fifth tee to start the playoff.  "I don't think Tom was tired," Nicklaus said in sympathy after his friend's disappointing finish. "But emotionally, he was spent."   Still, the man left standing when the spirit of past glory departed handled his disappointment with the grace and modesty of a classic hero. "This ain't a funeral, you know," he observed,surveying the gloomy faces in the Open press center at Turnberry—the old admonition against cheering in the press box had been discarded as Watson advanced toward his improbable and ultimately elusive victory.
The swing that carried Watson to the edge of triumph at Turnberry closely resembled the one that won for him there in '77.  Now he and Seitz have summarized Watson's insights into his swing, and the golf swing in general, in a brilliantly conceived and executed new book, The Timeless Swing.  Not only does it explain the fundamentals—grip, setup, alignment and so on—it has a high-tech feature that allows Watson to elaborate on his explanations with short videos.  I thought the videos were a great addition.
The Timeless Swing uses a technology from Microsoft called TAG to take readers to the video add-ons.
You go to a website for a free mobile app, then aim your smart phone at these little icons scattered throughout the book that look like barcodes on acid, and that starts the download of a YouTube video.
Golf instructional books typically distribute their advice over two broad categories: the basics, which every beginning needs and accomplished players must never forget; and the advanced skills required to actually play the game, advice which covers scoring tips, how to "read" a course, how to make sensible choices, like taking your punishment when you've hit a bad shot and not compound your troubles by assaying an heroic recovery which would require you to execute the best shot you've ever hit.
How does a 12 handicap (full disclosure: index 12.8 at Ghost Creek at Pumpkin Ridge in Portland, my "home course") critique a book about playing golf by one of the greatest players ever to push a tee in the ground?    I read the book first—slowly, because you need to let the expertise percolate into your consciousness—and then tried to make some adjustments in my mediocre swing on the practice range with Watson's advice in mind before testing in on the course.
My version of the timeless swing may not endure through eternity, but for one bright shining afternoon, it worked great—mostly, I think, because the explanations in The Timeless Swing are extremely clear.  The writing is pure crystal, while the videos provide all of the illustration about what you should be doing that the imagination may not muster.    I worked on setting up with proper balance and spine angle, holding the club in the correct grip with appropriate pressure, and swinging in rhythm.   I didn't spend a lot of time grinding to try to put these modifications in place—I just hit enough balls to feel as if I had made an adjustment I felt comfortable with, then off to the first tee at Heron Lakes' Great Blue Course, a Portland muni designed by Robert Trent Jones II that is among America's very best publicly-owned golf courses.
Much to my amazement, I played very well.  Sure, I hit some loose shots—I am a double-digit handicap, remember?—but I also hit some shots I will dream about.   I always promised that I would never write about playing golf, because I know it's as boring to read about someone's round as it is to listen to a blow-by-blow, but I am making an exception here because it illustrates the larger point of what I am discussing: how reading Tom Watson's brilliant analysis of the golf swing, and watching videos showing how he puts his views into practice can help any golfer improve.
On the tenth hole at the Great Blue, I pulled my drive a bit and it landed in a fairway bunker  about 160 yards from the green.  There's a mound in front of the bunker, so the shot was blind.  Greenside bunkers to the left eliminated a direct route to the pin.   I aimed to the open front of the green, imagined a slight draw, set up with a strong image of swinging easily so the arc of my swing would hit the ball slightly before the clubhead reached its nadir.   As the ball came off the club, I felt instantly contented.  A couple of quick steps to my left to see the line of flight and there it was, the ball taking exactly the trajectory I had imagined and running up onto the green, about 40 feet short of the hole.   I missed the putt but had a tap-in par.
Is this just a variation of the new putter placebo effect?  You know, when you buy a new putter and make everything you see for a round or two, before the default deficiencies in your swing re-assert themselves?  Certainly possible.
I prefer to believe, however, that it's because Tom Watson knows what he's talking about, and with the help of Nick Seitz is able to explain what he knows in simple, accessible, visually memorable detail.   (The book also has great photos by Dom Furore.)
I have never been a fan of instructional books of any kind.  (I'm not big on following directions generally.)  But The Timeless Swing is a gigantic exception to my skepticism about the whole notion of learning a physical skill by reading about it.   I think anyone who plays golf will benefit in some measure, big or small, from studying and digesting the wisdom of a great master, a true golfing sensei, Tom Watson.  Before you think about buying new clubs or investing in a new putter, stop by the bookstore first and do yourself a favor: buy a copy of The Timeless Swing.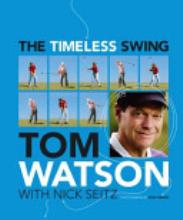 Tom Watson, with Nick Seitz, The Timeless Swing.  Atria Books, $29.99.    You can also buy the book from Watson's website, which also offers additional free video playing tips.    http://www.tomwatson.com/