After the third round of the Accenture World Match Play Championship at the Ritz-Carlton Dove Mountain Resort in Tucson, AZ, last Friday, the Golf Channel launched its new alliance with NBC Sports by broadcasting an hour-long round table on the state of the game.  Dan Hicks moderated a lively discussion featuring alpha commentator Johnny Miller, pretender to the throne Nick Faldo, and reliable aides-de-camp Roger Maltbie and Brandel Chamblee.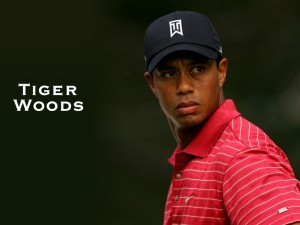 The state of Tiger Woods' game occupied the first long segment of the discussion, an interesting choice given that Tiger had lost in the first round of the match play, and hasn't won anything since 2009, an eternity in Tiger years compared to the long era of his dominance.   The panel's consensus, perhaps somewhat surprisingly, was that Tiger was now unlikely to surpass Jack Nicklaus's great benchmark of 18 majors and assume the mantle of "greatest golfer ever," a foregone conclusion three years ago.   
 Miller, whose commentary bristles with conviction, noted that for Tiger to pass Jack now would require a career from this point forward roughly equal to what Phil Mickelson has accomplished in two decades—an astonishingly high standard, given that no currently active player—discounting for the moment the possibility that eight-time major champion Tom Watson will make another run at The Open Championship—has won more majors than Mickelson's four.   (Vijay Singh, Ernie Els and Padraig Harrington have each won three.)    Put in those terms, Tiger's chances now do seem slight.
 Faldo focused on the incredible challenge of recovering the conviction that the shot you're about to hit is in your arsenal, especially when you're feeling the squeeze of competitive pressure.   Watching Tiger take practice swing after practice swing, as he did during his first round loss to Thomas Bjorn, Faldo pointed out, was to witness a declaration of doubt.   And the results reinforced the uncertainty clearly crippling Tiger's psyche—he couldn't hit fairways that were 80 yards wide.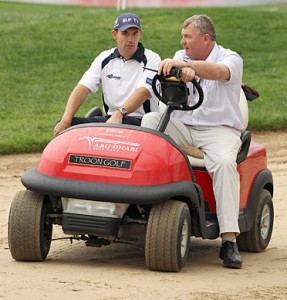 The experts went slightly astray when the topic of odd rulings, post-round penalties and disqualifications came up—particularly Harrington's recent accidental rules debacle in Abu Dhabi, Ian Poulter's ball marker-mishap in Dubai, and Camilo Villegas' casual divot toss in Hawaii.   The DQs especially seemed too harsh, given that the violations were inadvertent and no one believed the players were trying to cheat.   A post-mortem two stroke penalty at most seemed more equitable to the panelists, but the entire issue of changing the outcome of an event after the scores have been officially recorded seems absurd.  (By this standard, my beloved St. Louis Cardinals would be declared the retroactive winners of the 1985 World Series in six games rather than losers in seven, because everyone knows the umpire blew a crucial call in the top of the 9th in that sixth game.)      Everyone agreed that something needs to change—perhaps not so much in the rules themselves, but in their retroactive application.
Brandel Chamblee, who is as knowledgeable and articulate as anyone writing or talking about professional golf today, noted that "the biggest travesty" as far as arcane rulings go was Roberto De Vicenzo's "disqualification" at the 1968 Masters "for signing a scorecard with a higher score."  What's amazing about this comment is not simply that someone as well-informed as Chamblee recounted what is in fact a persistant myth about that Masters, but that both NBC Sports and the Golf Channel's leading experts let Chamblee's comments stand.  But Chamblee's version of the De Vicenzo debacle is not what happened.
If you sign a scorecard recording a lower score than you actually made, you are of course disqualified.   But if you sign for a higher score, the erroneous score stands.  And that's what happened to De Vicenzo.  He signed a scorecard that recorded a "4" on a hole where his real score was "3".  Curt Sampson, author of a small shelf of fine golf books—among them Hogan, The Eternal Summer, and Royal and Ancient—wrote a wonderful, comprehensive account of t the 1968 Masters, but despite his corrective effort the legend of De Vicenzo's "DQ" persists. 
In The Lost Masters: Grace and Disgrace in '68, Sampson tells this remarkable story through the eyes of the two  men whose lives were most affected by it:  De Vicenzo, and winner Bob Goalby, who many people persist in believing kept the wrong scorecard that De Vicenzo signed.  In fact Goalby was not even playing with De Vicenzo's group, and put together a great final round that would have put him in a playoff with De Vicenzo had the Argentine signed an accurate scorecard.   So Di Vicenzo didn't "lose" the Masters because of the errant scorecard: he lost the chance to win it in a playoff.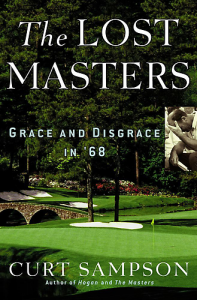 Another topic the experts chewed over was the dominance of the European Tour players in the world rankings and in the Ryder Cup, a harbinger of the overall shift in the axis of the game away from North America.   The proof was evident in the next day's matches, which left two men standing: new world number one Martin Kaymer, and match play monarch Luke Donald, who dominated every long-hitting challenger who dared to step on the course with him at Dove Mountain.  As I post this commentary, today's final match is a couple of hours away.  Whoever wins, we can only hope no bizarre rules infraction will mar the outcome, and that the match is competitive at least through the 18th hole.  Golf can use a shot in the arm, especially in the USA, and nothing tops the competitive thrill of a great mano-a-mano golf match.