Australian Aaron Baddeley won the Northern Trust Open at Riviera in Las Angeles today, his first victory on the PGA Tour since 2007.   A world away, in New Delhi, India, S. S. P. Chowrasia won the Avantha Masters for his second European Tour victory, following a triumph at the Indian Masters three years ago.   Baddeley held off an early challenge from Fred Couples and a late run by Vijay Singh to win by two shots, while Chowresia won by a single stroke after Englishman Robert Coles bogeyed the last to drop out of a tie for first.   Chowrasia's final round featured seven birdies and a late double bogey that would have led to a playoff had Coles not faltered on 18.

Australian teaching pro Dale Lynch was mentioned several times on both The Golf Channel's and CBS Sports' coverage of the Northern Trust, credited as the swing coach who had restored Beddeley's game, sweeping up the debris from a failed conversion to the stack and tilt and reshaping it back into the fluid marvel that had produced back-to-back Australian Masters wins when Beddeley was 19 and 20 years old and a great career seemed certain, one predicted by no less an authority than Greg Norman.  But he never quite lived up to that promise, although his performance this week will certainly justify resurrecting those old prophecies.  Chowrasia, on the other hand, learned golf from an accident of birth in a country where the game is available almost exclusively to the privileged.
Dale Lynch is the link to Chowrasia, through another one of his players, Arjun Atwal, the first Indian golfer ever to win on the PGA Tour.   Last year, readers of The A Position were introduced first to Lynch, who had recently relocated to the USA, opening a teaching academy at The Cliffs in South Carolina.    They were taken along as Lynch helped Atwal recover from injuries and relearn a swing that he could execute without pain.   Atwal, who was also profiled in The A Position after his Wyndham win last year, learned to play at the Royal Calcutta Golf Club in Kolkatta, where his family were members.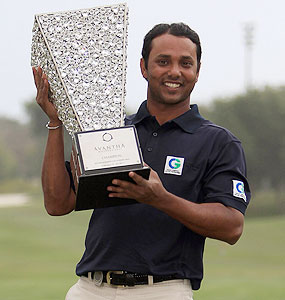 Chowrasia's father worked on the maintenance crew, giving his young son access to the perimeter of the golf course.  When some members at the Royal, among them Atwal, saw Chowrasia trying to learn how to play with a stick and a ball, they took him under their wing and taught him properly.  When Chowrasia won the Indian Masters, he was made a member of the club, the oldest in the world outside of the UK, and he still practices there regularly with other young Indian pros.   He's a gentle and charming man with a wonderful short game and a gracious disposition.  It's wonderful to see him succeed.
It is also great to see golf personalities who were not particularly well-known when first profiled in The A Position now playing a stronger and stronger role in golf's wider world.   Lynch's success with Baddeley, who learned his swing from Lynch as a boy in Australia before straying, the prodigal golfer now returned, will surely attract interest from other aspiring pros.  And if Chowrasia continues to succeed, he may someday join Atwal on the larger stage.   Just as India's economic growth has made it a rival to China, India's golf culture, while much older then China's but for the time being eclipsed by China's dramatic growth and its extraordinary projects, such as the two Mission Hills (Shenzhen and Haikou), surely India and China will some day each take center stage in world golf.  It would not surprise me if a 21st century rivalry develops in imitation of the US-European Ryder Cup featuring national teams from India and China.