The New York Times reported on December 28, 2010, that Venezuelan dictator Hugo Chavez is threatening to expropriate the land of the Caracas Country Club to build "housing for 4,000 poor families."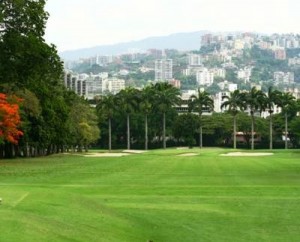 The club's "grounds," according to the Times, were "laid out in the 1920s by Olmsted Brothers, the esteemed American landscape architects."   At the time, Caracas' population was a little over 118,000; today metropolitan Caracas has more the 3.2 million people, hemmed in by mountains.    The course itself, according to "The Architects of Golf," was designed by Charles Banks, an associate of Charles Blair Macdonald and Seth Raynor who also worked on Yale Golf Club, the home course of his alma mater, as well as Mid Ocean in Bermuda and the Dunes Course at Monterey Peninsula Country Club in California, among others.   The idea of destroying a course with such a distinguished design pedigree wouldn't give any pause to Chavez, but for an aficionado of course design, it's what destroying a building like New York City's Penn Station would be to devotees of the architectural legacy of McKim, Mead and White…oops.
Chavez first threatened to expropriate Caracas's golf courses in 2009, another chapter of the campaign against golf that he launched in 2006.  Although the reporting on it is a bit ambiguous, as many as nine courses around the country may have already closed.
 Golf's an irresistibly easy target—the courses are just sitting there, and the game has long been associated with wealth and leisure, so it's not hard to stir up resentment.   Golf's a standard source of comic amusement in American popular culture, too, from the Marx Brothers to Caddyshack.   Silly men in plaid pants telling bad jokes and ordering the help around.   But the comic effects depend on the game's integration into the larger culture, not on the politics of resentment.
Chavez reportedly said, ""I think it is a bourgeois sport and there's no justification for having a golf course in the middle of a city where there is so much housing need for the people.  Even though there are slums, you have 30 hectares so a little group of bourgeois and petit-bourgeois people can go and play golf … They are so lazy, they use carts!"
OK, so he's right about that cart part, but otherwise he's using golf as a whipping boy.  And try accusing the working class Scots golfers of having petit-bourgeois tendencies—you'll get a mashie upside the skull.  Golf has been a model meritocracy almost everywhere the game has migrated, especially for caddies who have learned how to play well—from Gene Sarazen and Ben Hogan and so many others in the US to Angel Cabrera and SSP Chowrasia more recently on the world scene.
 And of course, Cuba periodically announces that it's going to develop golf resorts as a strategy to attract investment.  Given that Fidel is Chavez's idol, there's a wonderful irony there.   Not long after Castro's rebels took over Havana, Fidel and Che Guevara played golf.  Some said it was in mockery of President Eisenhower, an avid golfer.  The pictures were recently rediscovered.   Castro famously loved baseball, the game top teaching guru Dale Lynch says is the perfect preparation for the golf swing.  Based on Fidel's set-up, however, one would not predict a low handicap.