Steve Forrest is a principal in the international golf course design firm, Hills & Forrest, and also my colleague and friend. (I am the company's president and CEO.)   Over the last year or so, we've been coming together to China every month or so, putting together a portfolio of Chinese projects and building up a network of professional associates.  China is an exciting place to be, even if we often feel lost–both physically and emotionally.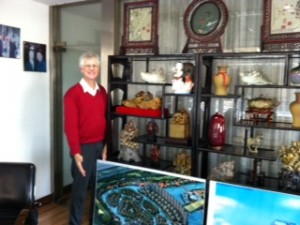 Steve is a thoughtful and thorough person, and he's been making a serious effort to learn some Mandarin.  Our first Chinese employee, Jackson Van, tries to help him, but Steve, like every laowai, stumbles over the demanding complexities of tone and puzzles over how tonal shifts undetectable to a non-native speakers ear can lead to dramatic shifts in meaning.
Steve's also tall, and really sticks out in the rural areas where we often go on site visits.  Once in a small village a group of teen-aged girls came squealing up to Steve, begging to have their pictures taken with the giant laowai, so we started calling him Famous Foreigner Forrest. 
We're in Beijing today, where it's cold.   Our taxi driver started laughing when we all piled into his little cab–three big foreigners and Jackson.  He nodded toward me and said something while smiling broadly.   I asked Jackson what the cab driver said.  "You have a big nose," Jackson said.
Steve's also studying Chinese history and culture, in part so that he won't commit a major design faux pas.    The art of feng shui is the key to understanding the Chinese approach to landscape design.  It would be a mistake, for example, to have a water fall or stream flowing away from a clubhouse.  Water represents wealth and good chi, so you don't want it floating away.  We're trying to avoid making major cultural blunders, although sometimes it's hard to see past our gigantic noses.
Chinese history is reckoned by its dynasties–the names given to the eras of particular rulers and their descendents.  The Shang and the Zhou and the Qin were among the early dynasties, but the last two ruling houses of China are also the best known in the west: the Ming, from the 14th to the 17th centuries, and the Qing (also known, less euphonically, as the Manchu), which lasted until the last emperor effectively relinquished power in 1912. 
Now that golf is booming in China, Steve suggests that the current age should be known as The Ping Dynasty. 
We think this has a nice ring to it, so in recognition of Steve's coinage, this posting is, we believe, the official notice of the world's first written use of the phrase "The Ping Dynasty."