Guiseppe Milié, known to all as "Pino," is an Italian architect who is also the Managing Director of Parco di Roma Golf Club, one of the last new courses built in Italy in the 20th century.  Designed by the American, P. B. Dye, Parco di Roma is only about eight kilometers as the crow flies from the Vatican.  You can see the dome of St. Peter's from the 15th tee.   
The course is routed at the base of a hill on the top of which sits a Norman castle, recently restored by its current owner, the Principessa Sofia Borghese.  Part private residence, part elegant banquet hall, Castello Torcrescenza has been the setting over the last several years for celebrity weddings and splendid state receptions. 
Last summer Silvio Berlusconi, who has reportedly been trying to buy the castle for years from Dona Sofia and her husband, the Marchese Fabrizio Ferarri, finally convinced Dona Sofia—who was described in a recent newspaper article as "a descendent of Pope Paul V," under whose papacy the Basilica of St. Peter's was completed—to rent it to him so he could avoid the paparazzi.  It's a very private setting.   A single gated road provides access to the castle, whose hilltop site was selected for its defensible terrain seven centuries ago.  I was at Parco di Roma right before Berlusconi moved into the castle, and watched teams of burly guys walking around the golf course talking into their shoulders and looking for weaknesses in the security perimeter.
Pino works hard to keep his avid membership at Parco di Roma happy.   The club has 1,400 members, including the bambani, but "no one wants to book a tee time," Pino says.   "They just want to show up and play." 
One solution Pino invented takes advantage of the members' gregarious approach to golf.  Romans love a party, and they're equally enthusiastic about competitions.   Pino recruited a friend who runs a famous winery to sponsor a competition that combines wine-tasting (or guzzling, depending on your preference)  with Stapleford scoring.
 "On the first tee," Pino explained, "before you hit your drive you drink three glasses of wine."   Why three glasses?  "So they have the possibility of drinking 18 glasses before they finish.  I will explain."
 As an American, my thoughts turned immediately to lawsuits.  As I try to imagine introducing this scheme into the US, all I can see is the image of a clutch of lawyers dancing across a well-manicured lawn tossing handfuls of subpoenas in the air like daisies.  Releases to sign on the first tee.  Designated drivers, and I am not talking about Big Berthas.  Addiction counselors at the turn.  Ah, but this is Rome, which has a couple of millenia of experience with banquets, feasts and Bacchanalia.
"So you play three holes," Pino continued.  "On the 4th tee we have another wine table set up.  The glasses are not so big.  You have the possibility now to drink three more glasses.  So let's say you make 6 on the first hole.  You drink one glass of wine, you now can say you made 5.   Like a Mulligan, only you take it afterwards.  Or say you made bogey on two—you drink one more glass.  Now you made par.  And so on.  With each glass you drink, up to three, you can take off one stroke."
The competitive objective now is figuring out how to balance the desire to improve your previous scores against the effects of the alcohol on your swing.  Drinking six glasses of wine in forty minutes will have some impact on even the most well conditioned alcoholic…I mean, "golfer."  After each three hole cluster, players have the chance to drink up to three glasses again, with the same scoring options.  So the sequence is: play three holes, go to the next tee and decide how many strokes you can handle.  Wine awaits on the 4th, 7th, 10th, 13th, and 15th tees, with the final slurps available in the clubhouse, at the combination scoring table/tasting room. 
Verification of scores was potentially an issue, but as it turns out, Pino says, nobody focuses very much on the results.  Everyone was eager, however, to get to the buffet, so the kitchen had to be on its game.
 The winery sponsoring the first event was Biondi-Santi.   Here's what the Italian wine merchants' webpage says about Biondi-Santi. 
 "Established in 1880, Biondi-Santi was a winery destined for greatness. But it wasn't until the late-19th century that the estate at "Greppo" made its mark in viticulture history. It was then, in the renowned hills of Montalcino that Ferruccio Biondi-Sante took a clone of the Sangiovese grape, known as Sangiovese Grosso, and produced the first ever Brunello.  Ferruccio's son Tancredi made the wine famous, officially classifying it as Brunello. Within a decade Biondi-Santi was receiving praise from wine-lovers everywhere. This new classifcation of Tuscan wine forever changed the Italian role in the industry. Today, it is Tancredi's son Franco Biondi-Santi who runs the estate, producing nearly 70,000 bottles a year. These remarkable Brunellos are best-known for their incredible ability to age. Even 100-year-old Brunello from Biondi-Santi shows remarkably well."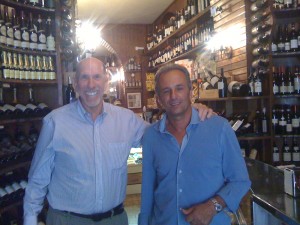 That last claim is not hyperbolic.  Pino, who knows everyone in Italy, introduced me his friend, Daniele Tagliaferri, who runs a famous Roman wine shop called Enoteco Achille, on Via Parlemento, named for its proximity to the Italian House of Parliament.  Here's a picture I took recently
of a Biondi-Santi from the 1891 vintage.  The price is €33,000—or $41,177.   Next to it is a 1925–a mere €10,000, or $13,387.
When I reminded him of the prices on the great vintage wines we saw at Enoteca Achille, Pino laughed.  "We don't serve Brunello," he said.   "We serve a nice rosato"—an Italian rosé.  "Maybe about €48 a bottle.   Light wine compared to the great Brunellos."
 The prize for winning?  What else, but wine from Biondi-Santi.
"It's a great competition," Pino says.  "Even the losers don't seem too unhappy.  And then afterwards we have a party."