Though lots of new books about golf are published every year, not many are worth reading, and even fewer endure.   In more than thirty years of reading about golf, I've run into only a handful of books I would like by my bedside if I had only a few months of reading left.   This is the first in a series of reviews of the golf books I believe are the best of the genre.   These are the books I recommend to friends, especially to people who are puzzled by golf's attraction to all of us who are addicted to the game.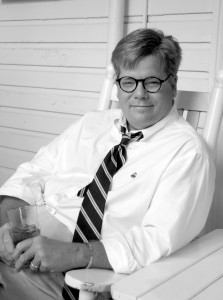 James Dodson didn't rest on his laurels after publishing "Final Rounds."  He wrote a best-selling biography of Ben Hogan and ghosted Arnold Palmer's autobiography.  He wrote more books about golf, too, including his latest, "A Son of the Game," which takes him back to North Carolina and in way full circle from the journey begun in "Final Rounds."
Final Rounds tells the parallel stories of a father's love for his son and the son's gratitude for the emotional security and genial guidance bestowed by this marvelous dad.  James Dodson grew up in North Carolina, where Braxton Dodson, a salesman whose outlook and attitude were so wondrously sunny that his boy called him "Opti the Mystic," or "Opti" for short, taught him, among other things, how to play golf.
Opti, as a wise parent, knew that giving his boy orders wouldn't get him very far, so his standard retort, when Jim asked for advice, was, "What do you really want to do?" When he was in graduate school, Jim's girlfriend was murdered. Not long afterward, he reluctantly took a newspaper job, but quit after a few months. His editor asked, "why?" Jim had to go to Scotland, he said, to see the golf courses.
"Nobody except my father," he writes, "thought it was the right thing to do."  Opti gave him a ride to the airport, a new watch, and a thousand bucks.  Reading Graham Greene novels and lugging his golf clubs, Dodson "roamed around the continent for nearly three weeks," then headed for St. Andrews, the Scottish town where the game of golf was born.
"I'd finally seen the famous Old Course," he writes, "but to me it looked like just any other golf course in the rain, and I felt no desire even to play it.  My little pilgrimage was a bust because I was still as sad as the day I'd left home. I remember wanting to weep, but I couldn't even be bothered to do that."
Back home, he settled on the journalist's life.  He interviewed senators and presidents.  Then he came out into the light as a golf writer.  (Sometimes, he says, he tells people he sells coffins, so he won't have to answer the inevitable question, "What is Jack Nicklaus really like?")  
He married a college professor and moved to Maine, and had two children of his own, while Opti, as he approached his ninth decade, kept working, "a sales legend in his company." When Opti fell terminally ill, but before his symptoms completely disabled him, father and son set off on a sentimental golfing journey to the British Isles. Dodson writes beautifully about this experience, which is the narrative heart of Final Rounds.  Maneuvering between past and present, Dodson weaves golf lore, family history,and personal reflections into the larger tale.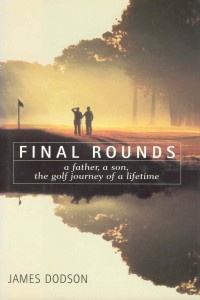 Opti, it turns out, spent a couple of years in England during WWII. When a B-24 crashed into a school in the town of Feckleton, Army sergeant Braxton Dodson was among the first on the scene.  "The plane had gone right through the school," Opti recalled.  "It set half the town on fire. I just remember…starting to pull away pieces of things … and all those precious little kids inside … buried alive or killed by the explosion."
Dodson speculates that this horrific experience, which he'd never heard Opti speak about, shaped his father's optimism.  "No matter what he shoots," Opti's golfing companions told Dodson, "your old man never seems to have a bad day on a golf course."  If you've seen thirty-eight children incinerated, missing a putt can't be regarded as a very bad experience.
While the trajectory of Final Rounds arcs towards a funeral, it is not a sad book.  Opti deserved this tribute, earned by filling his life with kindness and generosity.
As the culmination of their pilgrimage, father and son arrive in St. Andrews, but by then Opti is fading.  Because he won't jump the ballot–the daily drawing that determines who's going to play–even though Jim the golf writer has pull and could probably arrange it, Opti and Jim must make do with a stroll over the Old Course late one evening. They swing imaginary clubs at imaginary balls, and "play" the inward half–the back nine.
"We walked to the eighteenth tee, struck fine drives into the darkness," Dodson writes. "For weeks I'd been so fearful of this moment. I wasn't the least bit sad now. "
Final Rounds is a sentimental book, but not maudlin. Golf summons strong feelings, because it's capricious and demanding and sociable all at once, and provides the arena where private fears and public ghosts may intersect. The spirits of Old Tom Morris and Bobby Jones hang around St. Andrews, and in the years to come, the shadow of Opti will drape the Road Hole bunker on the Old Course, where his ashes lie. Jim Dodson has done his dad proud.
James Dodson, Final Rounds: A Father, A Son, The Golf Journey of a Lifetime.  Random House Paperback, $16.00