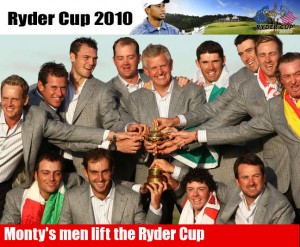 A strong wind puffed through Dublin yesterday, echoing the gusts of joy blowing out of Wales.  Ireland hasn't had much to cheer about lately, awakening every day to more gloomy headlines about the consequences of the country's economic collapse.  Services cut, taxes lifted, prospects bleak.  The Irish national identity has been hijacked by a nasty acronym linking it with the EU's other ineptly managed economies, the PIGS: Portugal, Ireland, Greece and Spain.  But as I walked around Dublin on this bright October day, I saw a lot of smiling faces, embracing their countryman Graeme McDowell's victory over Hunter Mahan and with it reclaming the Ryder Cup from the Americans as a portent of hope.
I was wearing my Ryder Cup sweater, and everywhere I went people pointed to the logo and said, "grand, wasn't it?"  And off we were on a cheerful discussion about how wonderful the Ryder Cup was and how good it will be for European golf.   They're not talking about the players alone, although they're happy to celebrate with McDowell and his teammates Rory McIlroy and Padraig Harrington, two Ulstermen and a Dubliner.  Unlike most American pros, the Irish triumvirate maintain close links to their homeland.  They're embraced by the fans in a way that the more lofty American pros may not always be.  Most American pros move to Florida or Texas for tax reasons, while the Irish heroes stick around home.   The Irish fan base depends less on an abstract notion of patriotism than on genuine links of friendship and affection between them and Padraig, Graeme and Rory.  Ireland's a small place, so to have three such outstanding professionals competing on the world stage generates a lot of national pride.   Irish tourism is heavily linked to golf, so more golfers coming to Ireland on holiday will provide a sustainable boost to the economy.
I stopped by the National Gallery of Art to look at a couple of my favorite paintings: the great Caravaggio that was the subject of Jonathan Harr's wonderful book, The Lost Painting, and a small canvas called "Oxen in the Sea" by the Spanish impressionist Joaquin Sorolla y Bastida.  The Caravaggio is The Taking of the Christ, and how it ended up in Ireland is the unlikely story Harr tells so well in The Lost Painting.  You will probably not be surprised to learn that bureaucratic duplicity and the avoidance of taxes help explain the Italian role in misplacing a Caravaggio in the first place.
The Sorolla painting is special for a couple of reasons.  Two large oxen wading into the surf fill the canvas.  Their bright orange hides shine like marmalade under the Mediterranean sun—entirely apropos, once you know the story of the aquatic cattle.   James Michener, the American novelist whose genre of fictionalized historical narratives once topped the best-seller lists, worked as a merchant seaman in his youth.  He was a deckhand on a real sailing ship, one of the last commercial vessels conveyed by the wind.  In a wonderful memoir about his love of the Iberian peninsula, Michener wrote about taking on a load of oranges in Valencia.  Because there was no real port, he wrote, the oranges were hauled out to the ship by teams of oxen yoked to a barge.  The oranges were then loaded into barrels filled with sea water, and the jostling on the voyage to England loosened the rinds and prepared the oranges for conversion into marmalade.
Several years ago I was in an orange grove near Valencia and asked the locals if they had ever heard of the swimming cows.  None had.  I had hoped that descendents of these special cattle had been preserved as a heritage breed, but apparently not.  Some of the orange groves now are housing estates achored by golf courses.  No role for the cows in this scheme.
So it was a great joy for me to discover Sorolla's painting several years ago in Dublin.  When I went looking for it today, I was disappointed to see that the gallery where I remembered it hanging was closed for renovation. I mentioned this to a guard standing nearby, who told me, no worries, it's just been moved, and could be found in gallery 37.  "Were you at the Ryder Cup?" he asked, pointing to my sweater.  When I told him yes, he expressed his delight at the outcome, and we had a ten minute talk about the first two days' rain, the postponement of the singles' matches to Monday, and the glorious outcome for Europe and Ireland.  "It was grand," he said.  "Your man stood tall on that putt," he said, and I knew he meant McDowell on 16, the putt that took the heart out of Hunter Mahan.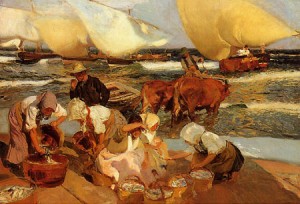 "Mahan played that chip on 17 like a man with a hangover in a Sunday fourball," he said.  It was impossible to disagree.  "But what about our Ricky Fowler," I asked, "that was a brave run he made, wasn't it?"
"Oh, aye," he conceded, gracious as Mahan picking up McDowell's putt on 17.
Fowler's astonishing final four holes confirmed the brave heart Lorena Ochoa observed when she was paired with Fowler in a pro-am at the Turning Stone Resort several weeks before the Ryder Cup.  Given that McDowell said that the pressure of the final holes in a Ryder Cup singles made his last 18 at the US Open this summer at Pebble Beach "like playing nine holes with my dad at Portrush," Fowler's performance is even more compelling, because without his half, the McDowell-Mahan match would have meant nothing.
Mahan's meltdown in the press conference inspired the only mean-spirited reaction I heard in Ireland.   A talk show on Setanta—kind of Mick and Mick in the Morning—played the sound track from the press conference and then said, "you can't be crying when you lose.  OK to cry for joy, but not for losing.  You need to congratulate your opponent and step away."   They saw it as self-indulgent.  And although I am pretty sure I saw a couple of sniffles from Edoardo Molinari after Fowler's knife into the heart on 18, no one at Setanta seemed to regard that as untoward.  But then Molinari did end up on the winning side.
As a vendor of golf course design services, I was delighted, too, with the European victory.  I think it will stimulate interest in golf globally, and maybe even jump-start the long discussed Italian initiative to develop golf tourism in a country that already leads the world in tourist attractions in everything but golf.
Like ping-pong in the Nixon era, maybe golf today can heal the rifts among nations and restore a sense of friendly competition among the peoples of the earth as a substitute for more belligerent solutions.  All hail Ricky Fowler, avatar of golf's new age.