Portland leads the world in creating fashionable active wear and leisure brands, led by companies such as Columbia Sportswear, Nike and Adidas America.  Weiden and Kennedy inspired an entirely new attitude to marketing hip sporting goods, and the legions of energetic, visionary people attracted to or recruited by these companies have made Portland a mecca for innovative approaches to clothes, music, art and food.  The Chinese athletic shoe giant, Li Ning, just opened its North American headquarters in Portland, attracted by the reservoir or talented designers and brand managers here.  So I can't say I was entirely surprised when, on a beautiful August Saturday, I decided to play18 of golf at holes at Heron Lakes, where two Robert Trent Jones II golf courses (owned by the city of Portland and operated by Kemper Sports, which also runs Bandon Dunes and Chambers Bay, where the US Amateur is underway this weekend), quench the golf Jones for thousands of local golfers every month.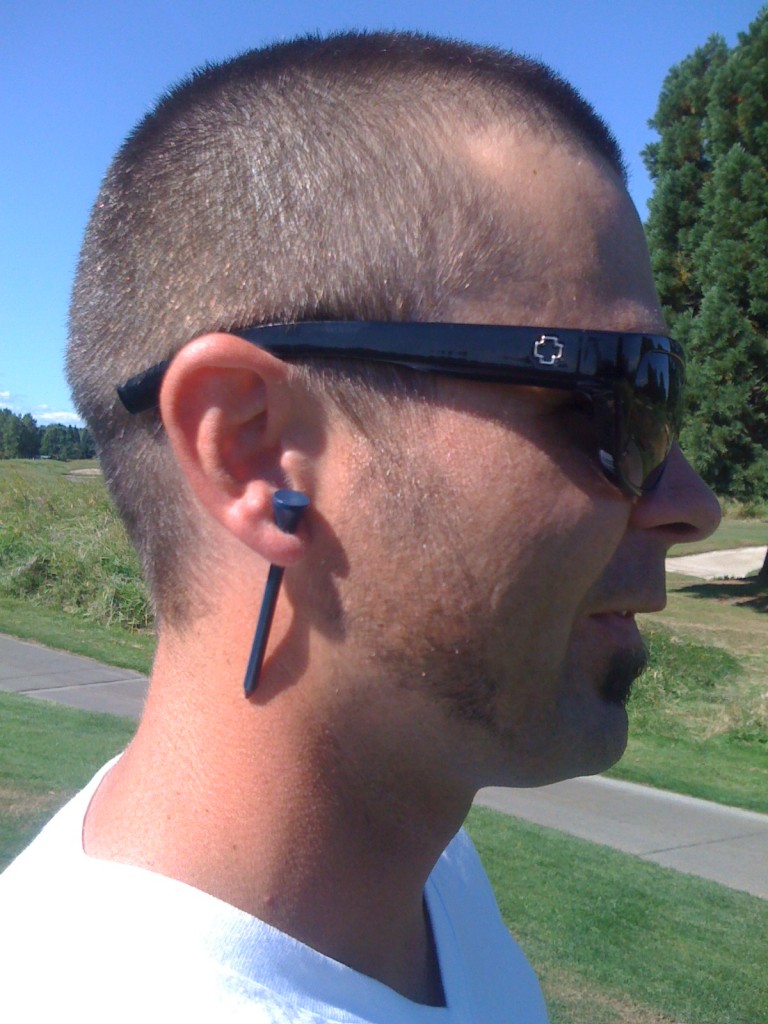 On the first tee I met Brice Secord, whose creativity in a game renowned for its traditional allegiances and conservative attitudes, was immediately obvious.  His play was so-so (as was mine, let's be honest), but his fashion sense was clearly perfectly in tune with the Portland zeitgeist.  
Brice, who's an apprentice lineman for PGE (one letter away from being in the PGA, as close as any of us can aspire to), carries a tee in each ear.  Before he found his calling climbing utility poles, he worked as a piercer in a Portland tattoo parlor, establishing his creative chops in a revered Portland creative arena.  Once his ear holes were wide enough for thick plugs, but several years working at PGE, where dangling baubles are not encouraged, has reduced them to the perfect dimension to hold a golf tee.
On the day we played, Brice went with the navy blue pegs, but has experimented with other colors, depending on his mood.   The ear tee adds a new phrase to the vocabulary of the links.  Someday Brice's innovation may rank with Gene Sarazen's discovery of "bounce" in the sand wedge, or Dick Halmstetter's experiments for Callaway with giant metal drivers, saving forests of persimmon.  I expect the Secord approach to tee management to have a lasting influence among Portland's creative golfers.