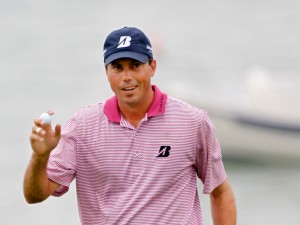 I was watching action from the second round of the 2010 PGA Championship on TNT.  Matt Kuchar had a wedge for his second on 9, but left it short and a little right—not the kind of shot one expects from a top professional golfer, although he would go on to make an easy putt for par and lead the championship after two rounds.  Ian Baker-Finch, a nice man whose commentary glides along on a generous and complimentary path, said after watching Kuchar's ball settle in the fringe, "there's an unforced error."  And I wanted to scream.
When is there ever a "forced error" in golf?   Did Kuchar's fellow competitors suddenly jump out of a bunker and try to bump him in his backswing?   "Unforced error" is a term of art for tennis, and even there it sounds precious and affected.  In tennis the person on the other side of the net is trying to make you screw up so he or she can win the point.  Forcing your opponents into an error is one of two ways to win a point in tennis, the other being to hit an outright "winner."   Golfers may be distracted, may not "commit to the shot," may be knocked off balance by a gusting wind, or may simply not hit the shot they're hoping for, which is certainly something everyone who's ever held a golf club can understand.  But "forced error" or "unforced error?"   They have nothing to do with golf.  It would make more sense to blame the caddie.
Players are struggling not against an opponent but against the golf course—in this case the ominous Whistling Straits, with all the optical illusions and vertiginous slopes and gnarly rough that Pete Dye's ingenuity and virtuosity can summon.  Designed to confuse and intimidate and ultimately exhaust anyone who confronts its challenges, Whistling Straits whispers "calamity" in the players' ears.   
But unforced errors?  No, every mistake a player makes–every flair to the right on 17, every smothered hook on 2– is the product of Dye's genius, with contributions from the weather or the sudden intrusion into consciousness of the dreadful realization of what is at stake in a major championship, and not because of any disturbances from beyond.  If Baker-Finch and other commentators would just think about what they're saying for one moment, they would abandon the conceit that there are "forced errors" in golf, and settle for describing shots usng the plausible scale of somewhere between "lousy" and "great."   After all, most viewers are now watching with excellent resolution on their high def TVs, and can see for themselves what's going on.  Baker-Finch's innate kindness contributes to his favorite locution, which is a variation of "that's pretty good from where he was."  I can live with that.