So Lee, the happiest man in America, hits the ground in Pittsburgh on Thursday afternoon, too late for a practice round but eager for the start of competition Friday morning at the 2010 Kiltie Invitational at Oakmont Country Club.  Golf Digest editor Jerry Tarde ranked the Kiltie as the second best member-guest event in the country, behind Cypress Point's and ahead of Congressional's, Colonial's and Crystal Downs' (and the only one at a club whose name doesn't start with "c').  The players are organized into flights named for famous country clubs, and by a wonderful coincidence Lee and David, his son-in-law and the Oakmont member, were in the Cypress Point flight.  There are 12 flights—Winged Foot, Seminole, Pine Valley and so on—with six teams of two players in each flight.  Every team in each flight plays a 9 hole match against the other five teams in its flight—three matches on Friday, two on Saturday.  Scoring is simple: ½ point for tying a hole, a full point for winning a hole.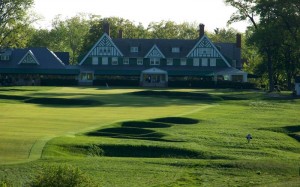 OK, so the only reason anyone should ever have to listen to the narrative horrors of a round would be as an act of penance for some really awful transgression, so not having sinned I declined to listen to Lee's blow-by-blow. However, I did ask for the high and low-lights, which he eagerly shared.  First hole, first round: smashed drive down the middle, iron on the green, two putt par for net birdie.  Ideal start.  Second hole: another good drive, but the second shot semi-shanked into a bunker: lo, the horror descends.  Match 1: lost 6 to 3; match 2: lost 5.5 to 3.5; match 3: lost 5.5 to 3.5.  Low point: hitting his ball sideways on 17 with a practice swing.  Solution: go back to David's house, have a glass of wine and play with the grandkids, who could care less. 
Day Two: The Turnaround.  Completely opposite result from Day One, but it was Too Late.  Team David and Lee won 6 to 3 and 6 to 3, allowing them to finish cumulative fourth in their flight, only one and a half points out of shared first.  The real highlight was that Lee made natural birdies on the last two holes he played, 17 and 18, an especially satisfying vindication on 17 after the mortifying accidental lateral the day before. 
The Kiltie also has a bunch of skill events—long drives, closest to the pin, longest putts.  There are separate competitions for handicaps from 0-13 and above 14, which was Lee's category.  He got to write his name on the long drive board once but it didn't hold up.  The most impressive skill victor was an Oakmont member in Lee's flight, Bernie Marcus, who won KP on both days on the the long 16th in the over 14 handicap group, hitting it to 20'2" on Friday and making a hole-in-one on Saturday. 
On Sunday, Lee learned the true reason for the invitation when David asked him to get the ladder out of the garage so he could repair and replace the outside lights. As I said before, Lee's handy around the house.
For the original post, go to http://theaposition.com/johnstrawn/golf/golf/personalities/268/america-s-happiest-man