Desmond Muirhead passed away in the spring of 2002.  Though designing golf courses brought him renown, Desmond only intermittently practiced golf architecture, juggling it among the other interests he treasured, such as art, history, travel, gardens and, above all, friendship.  Desmond was a outsized presence, with his princely beard and his booming laugh. He was a kind and generous man, a bon vivant and raconteur.
Desmond was a non-conformist, too, a self-styled provocateur who enjoyed tweaking the golf establishment. Despite a sterling portfolio of course designs, including Mission Hills, the original routing for Muirfield Village, and McCormick Ranch in Scottsdale, he was never a member of the American Society of Golf Course Architects.  His reputation suffered, too, from the deliberate flamboyance of his last few courses, which featured such "land sculptures" as a recumbent mermaid at the Aberdeen Golf Club in Florida. "The composition looked terrific from the air," Desmond wrote, "but from the ground it appeared somewhat like a conventional hole—in essence, almost links-like."  It wasn't until his memorial service, when I listened to one of his crewmates from the RAF describe his extraordinary aptitude as a navigator, that I finally understood how he had learned to imagine what the world looks like from 10,000 feet.  It was a survival skill, put to peacetime service.
He designed an island green at Stone Harbor in New Jersey that he dubbed "Clashing Rocks," claiming inspiration from a challenge the ancient Greek hero Jason faced on his quest for the Golden Fleece.  (Desmond insisted that all of the holes at Stone Harbor had mythological underpinnings inspired by Jungian archetypes, and gave them names like Prometheus, Tantalus and Medusa.)  In the Aeneid, the Argonauts had to avoid an ambush by maneuvering through a pair of pouncing islands, but Desmond's version of Clashing Rocks looked more like discarded graphic fragments from the beta version of Pac-Man: a pair of shark-toothed jaws about to clamp shut on a green that looked like a mated pair of bishop's miters.   As unplayable as it looked, the hole was replaced by a pedestrian island green, possessing the symmetry Desmond loved but stripped of its Jungian potency.   "The only thing worse than criticism," Desmond said, "is not being discussed at all."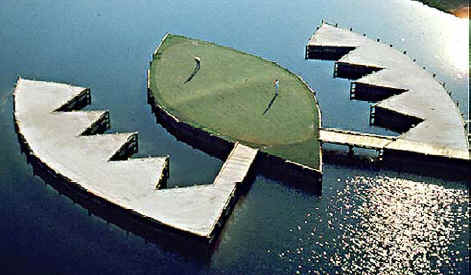 Desmond liked telling stories on himself, concluding most with a great guffaw.  In the mid-sixties he'd been on top of the world of golf course design, the only architect to rival, if only for a brief while, the redoubtable Robert Trent Jones.  Desmond was reviewing work on a course under construction back then in Florida, he told me, when the irrigation superintendent said to him, "you must be a great golf course architect."
"And why do you say so?"
"Well, they always told me Trent Jones was the world's greatest golf course architect, and he's an SOB.  But now that I've met you, I see you're an even bigger SOB, so I figure you must be the best golf course architect now."
Desmond visited Portland not long after we met, a city where he had worked as a consultant on tree planting for a local electrical utility in the 1950s.  He wrote a booklet on the appropriate trees to plant in boulevards and rights-of-way, helping create the leafy canopy gracing Portland's streets and neighborhoods.  He was living in British Columbia at that time, working as a landscape architect, and had not yet started the golf design practice that would propel him to prominence a decade later.   His ascent was as swift as his departure would be abrupt and unexpected.
He reached the pinnacle of the profession as Jack Nicklaus's partner in the early 70s, but rather than simply striking out on his own when they had a falling out, he stopped designing golf courses altogether.  He moved to Sydney and sold exotic glass and "symbolic art."  The Australian walkabout lasted just over a decade.
He resumed his golf design practice in the mid-80s.  "I just got worn out with the golf scene," he said, by way of not explaining.  When he came to Portland, Desmond stayed at our house, and admired the watercolors my wife had painted.  She was a full-time social worker then, but Desmond encouraged her to continue with her art. "You have a wonderful sense of color," he told her.  The day after he left the most enormous bouquet we'd ever seen was delivered, with a sweet note from Desmond thanking my wife for her cooking and hospitality and urging her to keep painting.  She's been a full-time painter for years now.
Desmond was not a modest man, but his ample ego never hindered his sense of empathy.  When he was ready for college, he told me, he'd "gone up to Cambridge with a man,"  but with no particular goal nor much ambition.  "What do you mean," I asked him, "that you'd 'gone up with a man'?"
"I had a valet," he said.  "a servant.  He put me to bed when I came home drunk and roused me to go meet with my tutors."  Desmond would leave Cambridge to join the RAF.
A mate from Desmond's six-man bombing squadron came to his memorial service in Newport Beach, held at Desmond's house along the Back Bay.  In the fall of 1944, not long after the Allied invasion of Europe, Desmond's crew had to abandon its plane on a bombing run over France and parachute to safety.  They were inside their own lines, so the upshot was a trip to Paris.  Desmond had a great time, his "zest for life and contempt for authority" perfectly suiting him to survive even the grimmest experience.  The crash was an portent of the trajectory of Desmond's life—thunderstorms loaded with silver linings, if one had the wit to see them.
Desmond called me while I was writing Driving the Green, the project that had brought me to Florida, where I had originally met Desmond.  "A golf pro from Texas has sent me a manuscript," Desmond said.  "Would you take a look at it?"
The last thing I wanted to do was read some naïve scribbling by a golf pro from Texas, but Desmond was hard to refuse, so I swallowed hard and said, "OK."  Much to my surprise, the manuscript that came was not just serviceable, it was really good.    It would be published under the title The Eternal Summer, and its author, Curt Sampson, would go on to write a small shelf of insightful, irreverent but thoughtful books on golf and its cast of stalwarts and minions.  Curt and I both savor the fact that we owe our friendship to Desmond.
In the wake of the collapse of the golf industry in the US, I thought it fitting to imagine what Desmond's response might have been.  He had explained golf's role in the detonation of the Japanese property bubble in the early 1990s better than any other commentator I read, explaining what had happened in the columns he wrote on the subject for Executive Golfer.  He would surely have had interesting things to say about our current predicament.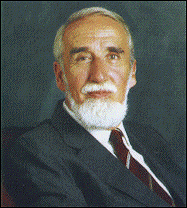 JS:  How are you?
DM:   Still learning, if I may say so.  Jung, it may not surprise you to learn, is in fact an insufferable ass.  All the archetypal symbolism—total bollocks, as he told me himself.  Well, I told him, don't think I fell for it—useful it was, but no more.  Stuck his nose up, he did.
JS:  No point in illusions there, surely.
DM:  I think the fantasies are richer, polished and serene.  Lovely, all in all.
JS:  Are you surprised, Desmond, from your vantage point, at how bleak the US golf scene is?
DM:  It's a symptom, isn't it?  It's not a cause, really, although I assume borrowing against the equity in their primary residences to finance a vacation home on a golf course in Florida or Arizona got some people in over their heads.  But did we build too many golf courses?  Of course we did.  And who's the man to say "no."  Not I, and not you.
JS:  The National Golf Foundation reports that there are 1,500 or so courses experiencing operating losses, and that "Our best estimate is that 5% to 10% of the 1,500 courses in trouble will close per year until supply and demand reach equilibrium."  And that is looking at it very narrowly—just through operations at daily fee courses.  What about all of that real estate around golf courses that is either sitting empty or has lost a huge portion of its value?  How long will that take to recover?
DM: It's much bigger than the S & L fiasco in the early 90s, isn't it?  And that took about four years to sort through.  But the underlying economy was not in shambles then as it has been the last three years either, so that recession is looking like a minor temblor compared to the earthquake we're feeling now.
JS:  Well, the big picture shows that the total value of home in the US fell $489 billion in the first 11 months of 2009.  Sounds horrible, but compared to 2008, when US home values dropped $3.6 trillion, or an amount roughly equal to the GDP of Germany, the fourth largest economy in the world, that's a big improvement!
DM:  That predicts a very long trail between the market's collapse and a recovery strong enough to stimulate any demand for new golf courses.  Remember what I told you in 1991, when the Japanese bubble exploded—that it would take decades for it to recover?  Twenty years on and Japan's economy is still stalled.   When we were in the midst of what Greenspan called our "irrational exuberance," no one wanted to stop, did they?  Who wants to leave the party early?  You might miss out on some of the fun.
JS:  But we stayed, drank too long, and now we've got what feels like a terminal hangover.
DM:  It will pass.
JS:  That's easy for you to say!  I'm still down here chasing work.  Thank goodness for China.
DM:  Now there's a country that understands symbolism.  You've studied feng shui, have you?
JS:  I know the term.
DM:  It's what I always tried to do—getting things in the right place.  Thinking about where you are in the world.  Golf's a strange activity, if you think about it.  Takes a lot of land and resources, requires years to learn to play well, and has almost no spiritual significance or higher purpose.
JS:  Wait a minute—it reflects the character of the people who created it, doesn't it—fair play, honor, decency, an acceptance of fate in the face of arbitrary effects, like your perfect layup funneling into Hell Bunker?
DM:  But isn't the greatest golfer in the world a confessed liar who cheats on his wife?  Where was the character building?  What I think is exciting about golf is how when new countries or groups adopt the game they change it, make it fit their own culture
JS: Like courses that advertise good wireless connections?
DM:  Be cynical, then.  I was thinking about how Japan has wrapped the game in courtesy and ritual, so it's not simply change your shoes in the parking lot, rush to the first tee and off you go, chewing on a hot dog and whistling at the cart girl for a beer.
JS:  But that reflects our culture—I'm a gringo, remember?  Don't be such a prig.
DM:  Remember the grand opening of Shinyo in Kysushu?  A lovely course, if I do say so.  They had a performance of Noh theatre, with a lovely stage erected below the clubhouse and the hayashi playing drums and flutes, the actors declaiming and nodding in those lovely masks, tilting their heads to and fro—all to help inaugurate the course. Have no idea what the play was about, but what a great ambiance, no?  The clubhouse roof shaped like a samurai helmet—lovely.  And that reverence for form suffuses Japanese golf, gives it a formality American golf never has.  When I designed courses in Japan, I tried to understand and respect the underlying dignity in the Japanese aesthetic, its reverence for form.
JS:  Didn't translate so well into the US, did it?
DM:  The forms translated fine, but the spirit was wanting.  It's like the difference between Japanese baseball and American baseball.  The rules are the same, but the approaches are distinct.  Still, at the highest level someone like Ichiro has a genius for the game that transcends cultural settings, like any great artist.  I tried to break boundaries, but I think now the golf designers are stuck in a kind of romantic nostalgia that undercuts innovation.  Golf is a conservative sport in general, and designers are happier looking back than forward.
JS:  Is respect for the past bad?  And aren't the forms pretty constraining—you have to have 18 holes, playing to certain lengths, and so on?
DM: But great artists can innovate within the formal constraints set for them—whether painting a ceiling or chipping stone, or dripping paint on a canvas.
JS:  Do you have any successors?  Any legacy?
DM:  No—I was sui generis.  I had a liberal education.  I came of age when Englishmen learned reflexively that we ruled the world for good reason.  Shedding that belief was my real education, but I never relinquished the sense that I belonged in this world.  All of it.  And golf was a great scalpel with which to operate.   The education of the architects now is narrow and conventional, and emphasizes commerce over art.  Real estate has been driving all this golf development for fifty years or more. You see where it's gotten us.   But I do think having stand-alone golf courses again is a great restoration of first principles.
JS: But without all that real estate pushing development there would still be a handful of golf pros pounding stakes in the ground on a weekend for 750 bucks, not great studios with large staffs and big brand names changing millions.
DM:  There is that—but I thought we were talking about art.
JS:  In the world of golf, art and commerce are conjoined—one doesn't exist without the other.
DM:  I tolerated the commerce, but I loved the creativity.  It was like a boy in a sandbox for me—a wonderful life.  And don't worry, we'll get through this, too.  You've read history. Mankind has created worse in the past—nothing here extinguishes my optimism.
JS: Thanks, Desmond.  We need to do this again.
DM: You know where to find me.
END
For more on Desmond Muirhead,  see Geoffrey Cornish and Ron Whitten, The Architects of Golf, pages 132-140.
Forrest Richardson, a practicing golf course architect and a leading scholar of golf design, wrote a delightful sketch of Desmond Muirhead in Golf Course Architecture, April, 2008.  Go to: http://www.golfcoursearchitecture.net/Article/Desmond-Muirhead/1439/Default.aspx
Finally, Curt Sampson wrote a wonderful peice on Desmond in the late lamented Travel and Leisure Golf,  called "Eccentric Genius."  http://www.travelandleisure.com/articles/eccentric-genius/1